The Rock WWE Rockpocalypse Android & iOS app out now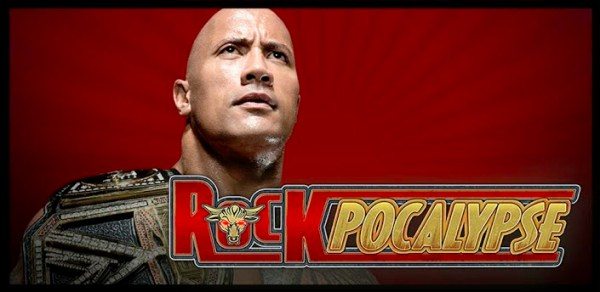 If you're a WWE or action movie fan and let's face it most of us are at least one or the other if not both, then you'll be familiar with the enigmatic figure that is The Rock. The People's Champ personifies cool and now you can be him with the new Rockpocalypse game app for Android and iOS platforms, which has just released. Be ready to do some serious a** kicking.
One minute you're Dwayne 'The Rock' Johnson filming yet another action thriller movie at Studio 51 in Hollywood and then before you know it everyone else starts turning a bit odd. In fact more than a bit odd because as The Rock you'll find yourself up against the cast and crew who have turned into beastlike aggressors. Needless to say it turns out these now zombie-like creatures have been infected with a mightily disturbing pathogen, blah blah blah, which causes their behavior.
As The Rock you must overcome the baddies (surprise!) by violently slamming, kicking and punching your way through their masses until you reach the evil mastermind behind it all and then have to sort him out too. Along the way you can use five different combat skills and upgrade them and also uncover hidden clues to solve the mystery behind the events. There are four different environments and 18 levels that get progressively more difficult.
WWE presents Rockpocalypse (see what they did there) from WWE Inc., is a free app although in-app purchases are available. The Android Rockpocalypse app is available at Google Play here and is compatible with devices running Android 4.0 or later. It just released today and already has a rating of 4.4 stars although looking at some player comments it seems many are torn between loving it and hating it.
The WWE presents Rockpocalypse iOS app arrived in the App Store a few days ago. Again it's a free app and this one is compatible for the iPhone 3GS, iPhone 4, iPhone 4S, iPhone 5, iPod touch (3rd, 4th & 5th generation) and iPad running iOS 6.0 or later and it has been optimized for iPhone 5. Out of 191 ratings so far this has 4.5 from 5 stars, so it seems a lot of people are getting a lot of enjoyment from it. Get this version from iTunes here.
We'd really like to hear your comments on this. Are you a fan of The Rock and eager to play Rockpocalypse? Are you heading to Google Play or the App Store right now? Maybe you've already played this game and could let us know if you recommend it to other readers. Send us your Rockpocalypse comments.