Samsung Galaxy S3 JB 4.2.2 update soon, US may miss KLP 5.0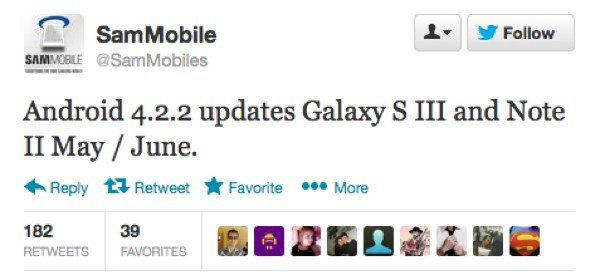 If you are the owner of the Samsung Galaxy S3 or Galaxy Note 2 then there's good news today as it seems the Android Jelly Bean 4.2.2 update will be rolled out soon. However we have to temper this with a caution if you're the owner of a Samsung Galaxy S3 US variant as it seems that this may not then be further updated to Android 5.0 Key Lime Pie as was previously expected.
We'll start at the beginning with a tweet that has been posted by SamMobile regarding both the Samsung Galaxy S3 and the Galaxy Note 2. The tweet says that the Android Jelly Bean 4.2.2 update will be rolling out to those devices sometime in May/June. We cannot verify this but if accurate this news will be widely welcomed by Galaxy S3 and Note 2 owners as it will bring benefits such as the most up-to-date version of Samsung's Nature UX and further Jelly Bean-specific features.
The Samsung Galaxy S4 is to launch worldwide from later this month and will be running Android 4.2.2 out of the box and so many Galaxy S3 and Note 2 owners will also be hoping they will receive some of the newest features being debuted on the GS4. However it seems that if you have a US Galaxy S3 model then 4.2.2 may be your last Android update and you may not get Android 5.0 Key Lime Pie after all.
Last month we brought you news of a leaked list of various Samsung devices that would be receiving new Android firmware and at that time it seemed as though the Galaxy S3 and Galaxy Note 2 would at some point receive the next major Android OS upgrade 5.0 Key Lime Pie on its eventual release. This is expected to be a major upgrade and you can imagine that most Galaxy S3 owners would automatically assume their devices would be receiving the update at some point down the line.
However further clarification from SamMobile says that dual-core Samsung devices will be stuck on Android JB 4.2.2 once they have it and it seems that only quad-core devices will now receive the upgrade to 5.0 Key Lime Pie. In a report about future updates for the Galaxy Tab 2 SamMobile states, "The insider reconfirmed. All smartphones and tablets based on a dual-core processor will end on Android 4.2.2." That seems clear enough and of course as many variants of the Samsung Galaxy S3 have a quad-core processor they will of course receive 5.0 Key Lime Pie in due course.
However there's a spanner in the works as the variants of the Galaxy S3 for the US market had a 1.5GHz Qualcomm dual-core processor instead of the 1.4GHz Exynos quad-core CPU in other models. Hence this certainly implies that Galaxy S3 owners in the US will never get to enjoy Key Lime Pie and we imagine that if this is indeed the case there will be plenty of upset and frustrated US customers. It looks like Galaxy Note 2 owners will still get 5.0 Key Lime Pie though, as all models have quad-core processors.
We'd really like to know what you think about this news on Android updates for the Samsung Galaxy S3 and Note 2. Are you happy to hear that Jelly Bean 4.2.2 looks set to roll out in May or June? Maybe you're the owner of a Galaxy S3 US variant and dismayed to hear that it looks as though your flagship device will not now be upgraded to 5.0 Key Lime Pie? Let us know with your comments.