US Samsung Galaxy S3 Mini Axiom & Exhibit Jelly Bean update latest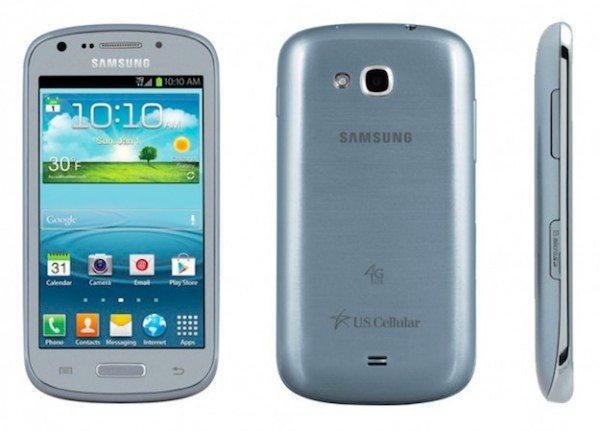 News of operating system updates for smartphones and tablets continues to flood in and at the moment it's all about Android Jelly Bean, still arriving in various forms to various devices. Now we have heard promising news about the Android Jelly Bean 4.1.2 update for the US Samsung Galaxy S3 Mini versions, the Samsung Galaxy Axiom and Samsung Galaxy Exhibit.
Although the Samsung Galaxy S3 Mini was the phone's name in many regions of the world, in the US two carriers took on this smartphone. T-Mobile's version was called the Samsung Galaxy Exhibit while the US Cellular variant was dubbed the Samsung Galaxy Axiom. The best news so far is for those who have the Samsung Galaxy Axiom on US Cellular as Jelly Bean 4.1.2 has already begun rolling out in the last couple of days.
Jelly Bean for the Galaxy Axiom has been issued as an OTA (over-the-air) update or is available through Samsung Kies but similarly to the Galaxy S3 update to 4.1.2 in the US the update lacks Samsung's Premium Suite, which may disappoint some. However there are plenty of other improvements and changes to make this update well worthwhile such as Google Now, Project butter, improved browser, multitasking and more so we'd urge readers to go ahead with the update to receive these advantages.
If you have the Samsung Galaxy Axiom and want to check for the update then head to Settings to find out. This is a good-sized update so you'll need your phone to be connected to Wi-Fi before you begin so it doesn't give up the ghost half way through. This may well be the last update that the Axiom receives though as it's not clear whether it will receive a further update to Jelly Bean 4.2 and of course Android 5.0 Key Lime Pie is scheduled to arrive in the summer.
For Samsung Galaxy Exhibit owners on T-Mobile we have not yet heard that the Jelly Bean update has begun to rollout for their device yet. However, as it has now arrived for the Axiom it seems a good indicator and highly likely that the update will also come to the Galaxy Exhibit in the near future. You may have to be patient for a while longer but the signs are there!
We'd like to hear from you regarding this latest OS update. If you have the Samsung Galaxy Axiom on US Cellular have you already received the update or are you still waiting eagerly? If you have the Galaxy Exhibit on T-Mobile we'd like to hear from you if Jelly Bean starts rolling out to your device so that we can share the good news with other readers so do send us your comments.
Source: Gotta Be Mobile