Samsung Galaxy S4 and HTC One, a look in the US crystal ball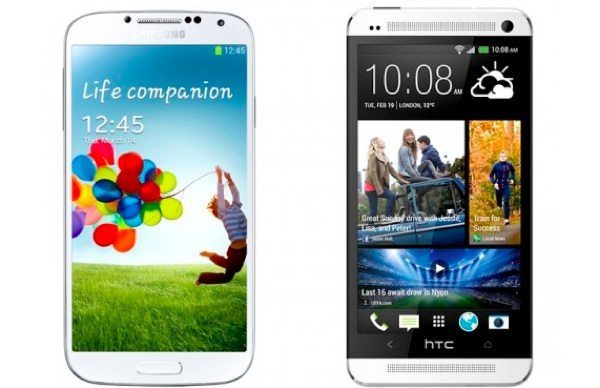 The Samsung Galaxy S4 and HTC One are two of the most awaited smartphones of the year so far and in the US both have yet to be released. These Android devices both offer top-notch specs and features and it could be difficult to choose between them. Although not all of the US release details are done and dusted yet we thought it would be interesting to look in our crystal ball and see what forecasts we can make regarding the US launch of these two phones.
We have already given you a lot of the details we know about pricing and releases for the Galaxy S4 and HTC One here and if you want a specs comparison check out our post here. Now that these two handsets have been officially announced we know virtually all there is to know but one thing we've learned over the years is that we can also pretty much guess a few things that will happen after both of these phones finally hit shelves in the US.
The HTC One should be the first of these two phones to arrive stateside, due around April 19th on AT&T and Sprint and probably T-Mobile. Meanwhile for the Samsung Galaxy S4 T-Mobile has announced a release date in the US of May 1 and AT&T and US Cellular are both taking pre-orders for the phone but have not yet supplied a release date.
The first glance in our crystal ball then refers to Verizon and our forecast is that Big Red will be the last of all of the major US carriers to offer both the Samsung Galaxy S4 and the HTC One. So far Verizon Wireless has been very quiet regarding both of these phones but it's not unusual to see Verizon as the last to climb on board. It has been widely rumored that Verizon will carry the HTC One, or possibly its own variant of the phone but as nothing has been announced yet we'd be surprised if Verizon isn't the last again.
Another thing that seems pretty safe to forecast from our crystal ball is that there will be price cuts for the Galaxy S4 and HTC One early on, possibly inside the first week of release. The first discounts are likely to come early from third-party retailers such as Wirefly and Amazon with the latter likely to cut the price by around $30 to $50. It may be quite some time though before we see carriers cut the price of either device.
Another crystal ball spot tell us that neither device is likely to sell out. Samsung should be in a good position to make sure that there are plenty of supplies to meet demand for the Galaxy S4. The company already knows that there will a massive demand for this handset and will also want to avoid some production snags that hit the release of the Galaxy S3 so Samsung is likely to be on top of the huge production of units that will be necessary. The HTC One has already hit problems regarding component shortages which delayed its initial launch in some regions. This might indicate further supply problems but it seems more likely that HTC has now got on top of this situation and units will hopefully be readily available.
Finally our last forecast is one that we're pretty sure of as we feel many consumers will be annoyed about Verizon branding on both handsets. When Verizon got its hands on the Samsung Galaxy Note 2 last year many purchasers were aghast to see the unseemly branding on the home button, which they felt completely spoiled the look of the phone. It seems unlikely that the Galaxy S4 and HTC One will manage to avoid the same sort of unsightly branding and so this forecast seems pretty obvious.
We're done with our crystal ball for now but it will certainly be interesting to look at the Samsung Galaxy S4 and HTC One post-US launch to see if these predictions are fulfilled. Are you eagerly waiting for the release of one of these devices, if so which one? Do you have any other forecasts for either of these handsets once they receive their US release? Let us know with your comments.
Source: Gotta Be Mobile