Asus Transformer AiO P1801 promo videos show tablet/desktop hybrid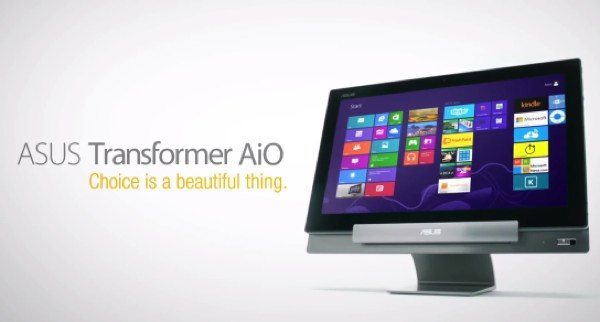 Way back in January we brought readers some news from CES 2013 about the Asus Transformer AiO all-in-one PC with a large detachable tablet. This has become known as a tablet/desktop hybrid and we now have news of two promo video trailers for the Asus Transformer AiO P1801, which was released yesterday for the US and Canada.
The two videos show more about how the Transformer AiO works and another reason that this is a hybrid is that as a PC it runs Windows 8 while the detachable king-size tablet runs Android. It has an 18.4-inch IPS full HD display with 10-point multitouch, 3.1GHz Intel Core i5 processor, 2GB Nvidia GeForce 730M GPU and 8GB of RAM.
The first YouTube video that you can see below this story is almost 2-minutes long and one of the features of this video shows just how easy it is to remove that whopping display and also highlights Asus SonicMaster sound quality, Remote Desktop technology and the adjustable tabletop stand. It also shows how easy it is to switch between Android and Windows 8 with one push of a button.
The second video that you can also see below is again nearly 2-minutes long and concentrates on use of the Transformer AiO around the home and demonstrates an option to connect the PC dock to a secondary display. We have to say that looking at the promotional videos does make us want to at least have a feel of the device and a closer look.
If you're interested in purchasing the Asus Transformer AiO P1801 the US price is $1,299.We'd like to hear your thoughts on this. Do you think there's a niche in the market for this tablet/desktop hybrid? Let us know with your comments.