Samsung Galaxy Note 3 angular prototype image emerges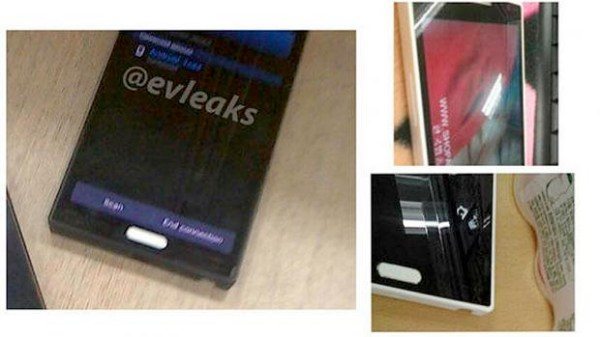 We've been following news, speculation and rumors about the Samsung Galaxy Note 3 and although nothing has been confirmed there have been plenty of leaks to discuss. This phablet type of smartphone has been massively successful for Samsung and today a leaked prototype image has come to light showing a quite different design to the current Galaxy Note 2.
We have no way of knowing if this image that purports to be a Galaxy Note 3 prototype is the real deal or some kind of mockup but as it comes from Evleaks we're inclined to think it could be genuine. Evleaks has now posted plenty of leaked images of various devices from different manufacturers and apart from the odd slip-up have been reliable for the majority of the time.
Only yesterday we wrote about design features that had been rumored for the Galaxy Note 3 that were now in doubt. For example it had been speculated that Samsung might change the build quality to something more premium, like the aluminum build of the HTC One but this is now being disputed. It also appears that the Galaxy Note 3 will NOT now have a flexible display as has long been rumored.
If the leaked images are genuine then it looks as though Samsung could be coming up with a whole new look for the next Galaxy Note. This design is sharp and angular and while there's no edge-to-edge display the outer edge seems to be slightly raised to the front panel, creating the illusion of a very narrow bezel. We can also see that this Galaxy Note 3 prototype has a physical home button.
Very close scrutiny also appears to show a slot for a stylus along the bottom of the handset so this could indeed be an accurate depiction of what the Galaxy Note 3 will look like, especially as designs in both black and white are shown. However we should point out that it could just as easily be a decoy or development shell designed as a red herring so that the real Galaxy Note 3 design remains undisclosed.
Tell us what you think of this claimed Samsung Galaxy Note 3 prototype. Do you think this could be genuine and if so is this new squarer design a look you approve of? Are you happy with the current Galaxy Note design and hoping the look of the Galaxy Note 3 remains similar? Let us know with your comments.
Source: Twitter @evleaks Via: Know Your Mobile