GTA 5 Edition countdown for iOS devices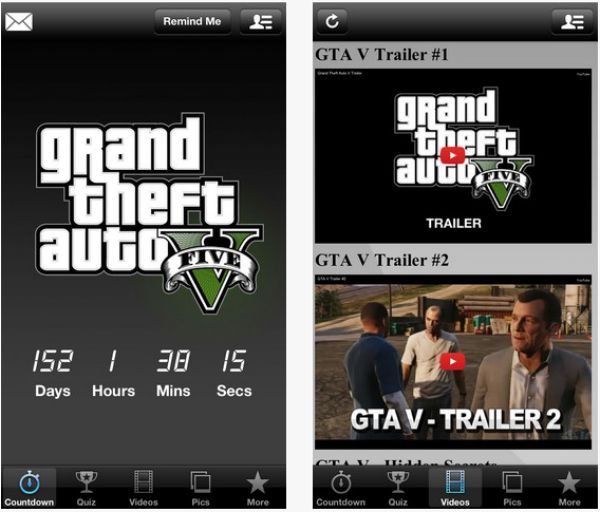 The GTA 5 release date is set for September 17th in the UK and below you will see a countdown timer we have added, but we did not want to stop at that so here is a brand new app called 'Countdown – GTA V Edition' for iOS devices.
Rockstar has confirmed according to PC Advisor that Grand Theft Auto 5 will be released in the UK on September 17th, the app we have here that can be installed via the App Store (iTunes) is the ultimate GTA V app and contains everything you need to gear yourself up for the release of this awesome game.
The app features a cool countdown timer, which shows you when the game will hit the shelves, you can also watch all the hot GTA V videos whenever you please.
You will love the GTA 5 screenshots within the apps image gallery, which also allows you to post comments as well as share them with friends of Twitter and Facebook. You can even take the GTA quiz if you are feeling a little clever; see how you rank against other fans.
The latest update was on April 21st that added new social features, the social sidebar can be accessed from anywhere within the app using the new shiny button that was added in the top right corner.
Please let us know what you think of the app and if you will be buying GTA 5 once it releases?
Thanks to iPhone Rumors for the heads up.