Swype Android app latest version of keyboard now available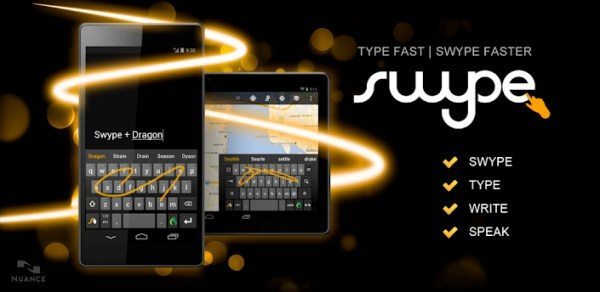 Many of you will have heard of the Swype keyboard that enables faster typing on touchscreens and today Nuance has announced that the latest version of Swype is now available as an Android app on Google Play. The Swype input style still holds the Guinness World Record for inputting a message on a touch-screen mobile device in the fastest time and there are more features on the new version.
Nuance Communications bills the new Swype as the "most powerful learning, living keyboard' and it's now on the Google Play Store for £0.69/$0.99. This productivity tool for Android smartphones and tablets provides a customizable four-in-one keyboard for enabling users to glide their finger from one letter to another to input text, or alternatively to tap, speak or handwrite symbol, numbers and letters.
It also updates the user's personal language model with the words or phrases they use most often and Swype also features Personal Dictionary Backup and Sync so can go with a user from one device to another. The Android app is compatible with devices running Android 2.2 or later and just some of the features include Living Language that crowd-sources and updates the dictionary with trending words and also Next Word Prediction.
Dragon Dictation allows the user to go hands-free and dictate to text and supports 36 languages while Smart Editor looks at whole sentences and can draw attention to potential errors and offer suggestions. Other features for Swype for Android on Google Play include Smart Touch, Smart Reselect and new Keyboard Themes Holo and Artic so there are now 13 themes.
To download the Swype for Android app head to Google Play here. A free Swype trial is also available from Google Play here. Also if you're interested in joining Swype's beta program for new Swype features head to Swype here.
Will you be trying Swype for Android from Google Play? If so perhaps you could let us have your thoughts on this app by sending us your comments.