Update: HTC Windows Phone 8S hands-on review is surprising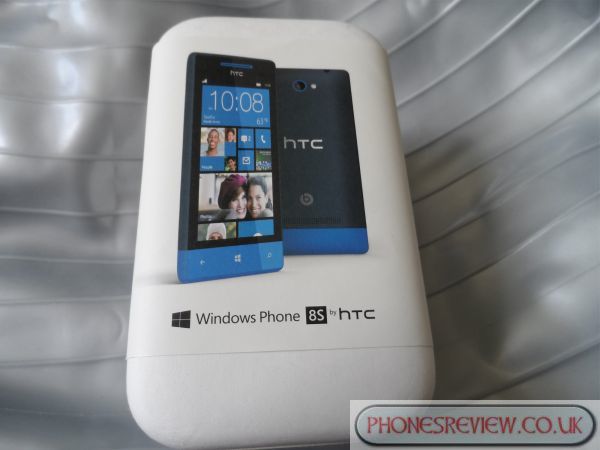 Phones Review was kindly sent the HTC Windows Phone 8S smartphone by Virgin Media, and below is our hands-on review. We will mention many aspects about this phone covering design, key features and much more, as well as our overall summary.
Introduction
The HTC Windows Phone 8S is what we call a mid-entry phone, and in that we mean it is an affordable handset with surprisingly good features. OK it does not hold the same features of the popular HTC 8X, but it is still a solid handset. Anyway, here are a few details. There are a few Windows phone smartphones on the market now and this one even though it is not a Lumia we would have to say it sits nicely between the Nokia Lumia 610 and the 820.
First Impressions
When we received the package by post we opened it to see the HTC 8S in a nicely presented box, we removed the sleeve and took the top cover off to see the HTC Windows Phone 8S. Got to say we really like the sleek look of this handset, our one is the cool looking blue colour.
The Key Features
The HTC 8S comes with a 4-inch S-LCD capacitive touchscreen, 480 x 800 pixels (233 ppi pixel density), it also comes with a 5-megapixel camera with LED flash, autofocus, touch focus, face detection and Geo-tagging and 720p@30fps video recording. The HTC Windows Phone 8S smartphone does not come with a front-facing camera, other key specs include 4GB memory, superb sound thanks to the integrated Beats Audio, 4 GB internal memory that can be expanded up to 32GB via the microsSD card slot, 512 MB RAM.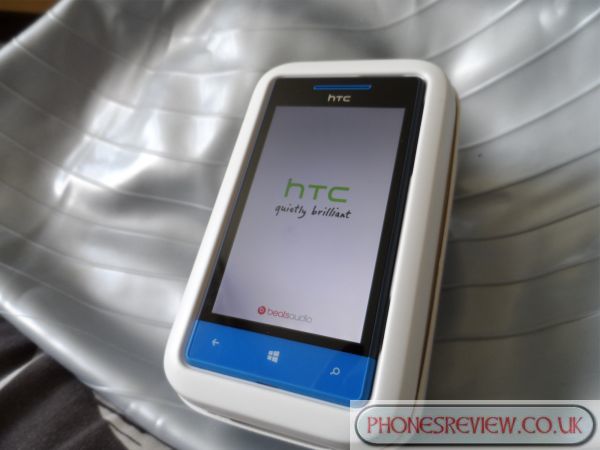 It is powered by a Dual-core 1 GHz Krait Qualcomm Snapdragon S4 processor, and comes with Adreno 305 GPU and runs on the Microsoft Windows Phone 8 operating system.
The Design
The HTC Windows Phone 8S, we will call it the HTC 8S from now on as we all know it is a Windows Phone. The design using our eyes looks brilliant; it has sleek curves and a rubberised feel and really does sit nicely in the hands. It is not too big and yet not too small; it is actually perfect in the hand.
The bottom part on the rear can be removed and easily put back for access to the microSD card slot and the SIM card slot, on the front you will see 3 touch-sensitive buttons and these are for searching, the back button and the main menu button. The screen covers virtually the whole of the front, for us the design is perfect.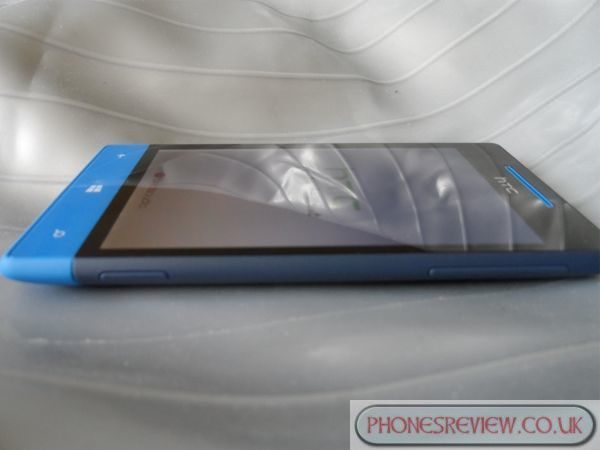 Performance and Features
When you start the HTC 8S you will see the standard Windows Phone 8 tiles, we have not played around with a lot of WP phones but have to say the HTC 8S is very simple indeed to use and navigate. It comes with things like the People Hub, which is great for social networking, it also comes with Kids Corner that allows children to play with the phone without the parent worrying they will access something they are not supposed to, you know like text messages, emails and it even prevents them using the Web.
On the camera side of things the HTC 8S is not as good as the high-end models like the 8X, but photos do come out very well indeed. It comes with a wide f2.8 aperture and this helps towards more light being sucked in for great photos. If you wish to make a video call then this phone is not for you because there is no front-facing camera.
With the time we had the HTC 8S we tested its call quality around Bristol, London and Kent, we got to say we never had any troubles at all and thanks to the built-in noise-cancelling microphones it filtered out most of the noise is loud areas, the calls were crisp and could hear people on the other end with no problems at all.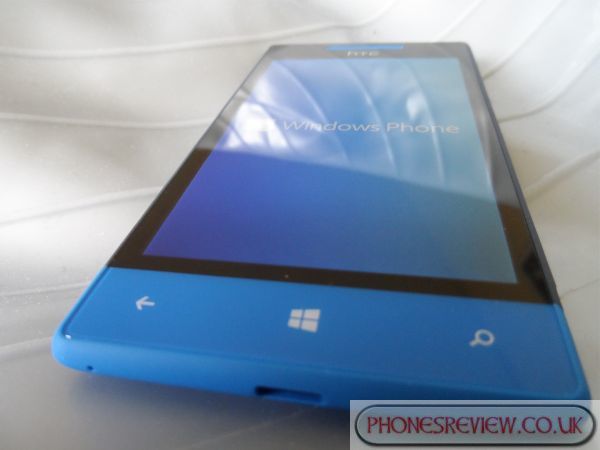 In the Box
When you open the box you will get the HTC 8S obviously as well as a charger, user manual, headset, data cable and AC adapter, as well as other bits of paperwork.
The Positives
Stunning and stylish design, very nice to hold in the hand, comes with a MicroSD card slot for up to 32GB, which is needed because it only has 4GB built-in. This handset is very easy to use if you are into social networking.
The Negatives
The battery is ok but it could be better, the browser is not super fast but this was dependant on wifi speeds, on 3G it was a lot slower but manageable.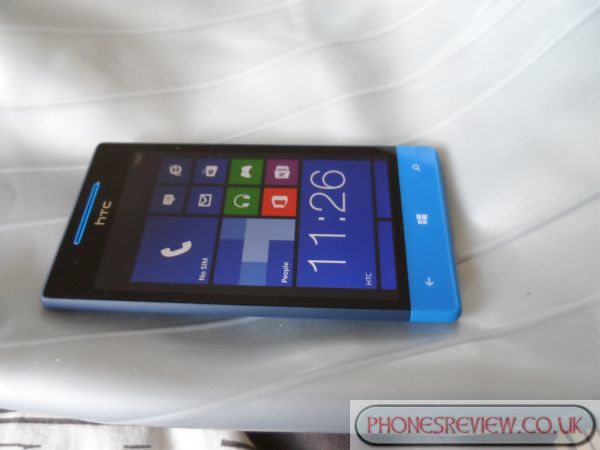 Phones Review Overall Summary
This is a stunning phone, it is fairly cheap over on Virgin Media for only £229.99 on the PAYG option, it feels amazing when holding and looks very sleek indeed. The specs are not as great as the HTC 8X but we would still recommend this handset, it is a highly capable phone that does most things you want it to do, the processor offers fast speeds so no chance of bad navigation, the screen is responsive and a pleasure to use.
For more information please visit Virgin Media, please stay with us because we will be giving the HTC Windows Phone 8S away to one lucky reader, more information on this free giveaway soon.
UPDATE: If you wish to win the HTC Windows Phone 8S courtesy of phonesreview.co.uk and Virgin Media, please follow our instructions here.
Our Hands-on Photos