Nokia event in Delhi India May 9 for unknown reveal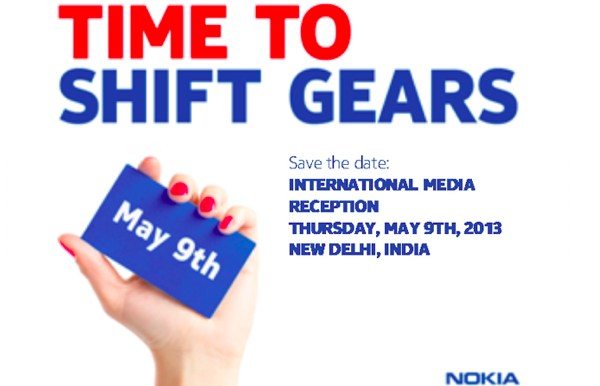 There's interesting news today especially if you're one of our readers in India as Nokia has announced a press event in New Delhi on Thursday May 9th. The only clue as to what the event will focus on is four words on the official invitation saying "Time to Shift Gears."
This has made us rather intrigued so that we are now anticipating what might be on the way for India. Nokia dub the event as an international media reception but we have no idea what the company might introduce although we could speculate that it may be about new hardware such as a new Nokia Asha device for India.
As India has a strong market for Asha phones this is a distinct possibility and looks more likely than a new Lumia Windows Phone handset as Nokia would perhaps be more likely to introduce that elsewhere. However the word 'international' that Nokia uses to describe the media reception also implies that whatever is announced will be something global.
Also there is a possible indication in the words "time to shift gears" as 'gears' could be related to Nokia's accessory division. Frankly at this point it's anybody's guess although it's possible that new accessories may be revealed along with something a bit more exciting. Whatever the event is for there's not too much longer to wait and when we hear further details we will, of course, pass that news on to you.
You may also be interested in our earlier post today about two new Samsung phones that are now available in India, the Samsung Galaxy Win Duos and Galaxy Fame Duos. While we wait for the May 9 event we'd like to have your ideas on what may be revealed? Are you hoping for new Asha hardware or maybe something else? Let us know with your comments.
Source: BGR