Toshiba AT10LE-A tablet with Tegra 4 chip photo leak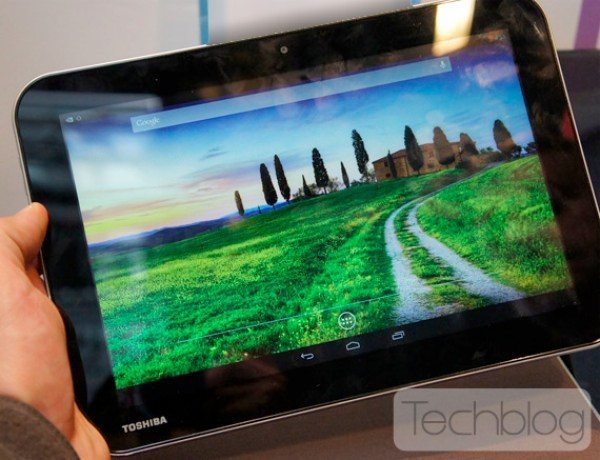 This is going to be a short and sweet post as we have very little information so far but thought that some readers would be interested to hear about a leaked Toshiba AT10LE-A tablet. We have some leaked specs for you and also a leaked image.
This device first came to light when it appeared in the AnTuTu benchmark results database and now a leaked image (below) purporting to be the Toshiba AT10LE-A has also emerged. Rumors so far suggest that this is likely to be a high-end tablet aimed designed for productivity as another image also reveals a keyboard dock.
Leaked specs include a 10.1-inch display, mini HDMI output and stereo speakers and the tablet runs Android 4.2.1 Jelly Bean. It's also likely to have expandable storage via microSSD. A factor that may interest some of you is that a 1.8GHz Tegra 4 quad-core processor is also rumoured for this device and the Tegra 4 chip is new for 2013.
For now we cannot tell you more than that but we'll be keeping a look out for more on the Toshiba AT10LE-A tablet and of course will keep readers informed as soon as we hear anything. Hopefully we'll be hearing something official soon on specs, pricing and release.
Are you interested to find out more about this Toshiba tablet? Send us your comments and let us know other specs you'd like to see for it?
Source: Tech Blog (Google Translated)