iPhone 5, Galaxy S4 vs 90s & Snake Retro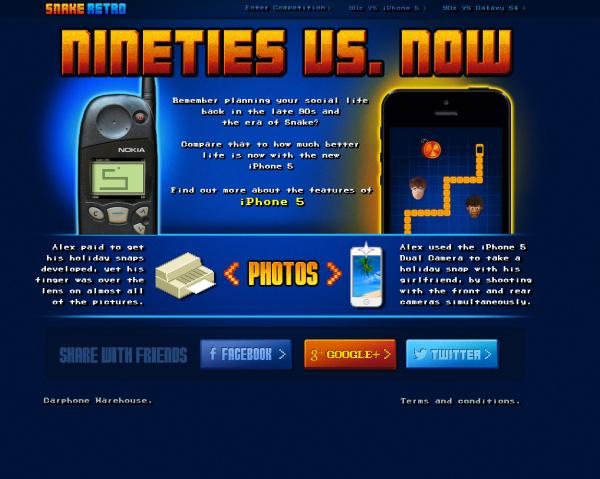 If you are old enough you will remember the mobile phones that were available during the 1990s that had physical aerials sticking out of the top of them along with the chunky builds. You may also remember that gaming wasn't at the level we see now, but that's not to say there wasn't some addictive titles such as the much loved Snake that came preloaded on Nokia handsets in the late 90s. We now have news of the iPhone 5 and Galaxy S4 vs the 90s and Snake Retro with a chance to win one of the handsets.
Leading high street retailer the Carphone Warehouse has launched a retro version of the Snake game that was once so popular with mobile phone owners. There is a nice twist though as if you enter your details when playing the game you stand the chance of winning either an iPhone 5 or a Galaxy S4.
The free prize draw can also be entered and the Snake Retro game played on a mobile phone, tablet, and desktop computer with the user picking which handset they would like to have a chance to win. All you have to do is enter some details such as your name, email address, and phone number.
It doesn't matter if you don't get the highest score in the new game as the prize draw isn't based on this, and the retailer is given us the chance to have a blast with some great retro gaming while adding the nice bonus of a free smartphone.
To find out more and to enter the free prize draw while playing the game click here and check out the demo video below.
Were you a fan of Snake?