BlackBerry Q10 bling edition has a dazzling price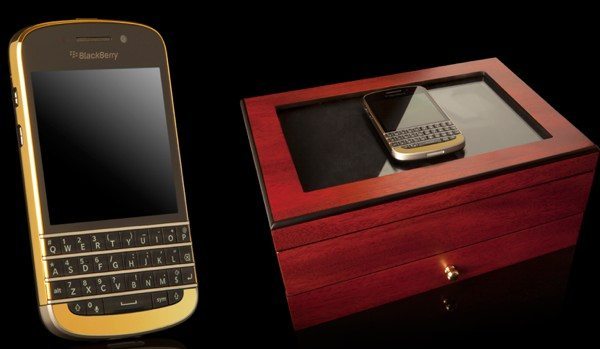 The BlackBerry Q10 was recently released and as the first QWERTY handset running the new BlackBerry 10 OS it was always going to attract a lot of attention. Now a BlackBerry Q10 bling edition has come to light that will also attract attention but comes at a rather dazzling price.
If you've been pondering over whether to purchase the popular Blackberry Q10 you may like to take a look at the image below where we've shown a customized 24-carat-gold version of the phone. Fair enough it's bling-tastic but it comes with a whopping price tag of £1597, that's around US $2480.
For that you'll get the special BlackBerry Q10 designed by Goldgenie but it's worth noting that for that price you not only get the phone in either black or white but you also get it delivered in a premium wooden box, unlocked and SIM-free! It features 24-carat gold plated bezels and also a gold panel below the keypad. The actual handset is exactly the same as the usual BlackBerry Q10 with identical specs.
Goldgenie has a name for luxurious products and if you'd like to see more then head here. If you have already purchased the standard BlackBerry Q10 you can still have it blinged up with bespoke gold plating by Goldgenie and the website also has more information on that.
We always enjoy receiving comments from our readers and would like to know if you'd consider spending that amount on this luxury BlackBerry Q10 smartphone for yourself or a loved one? Maybe you think the money could be spent on better things?
Via: Phone Arena