Candy Box game needs a stupid app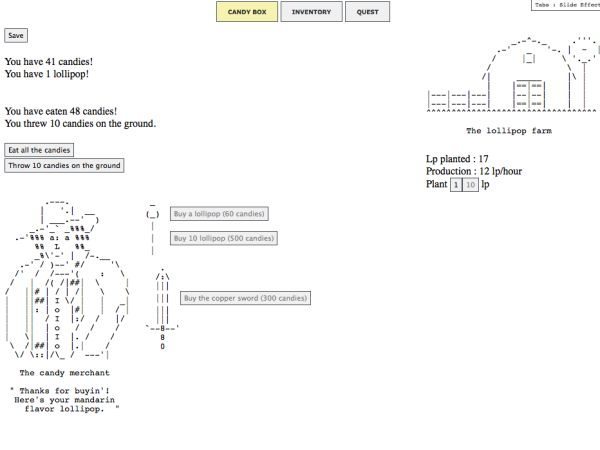 There is a game that is so stupid and boring but yet still addictive, why do we find games like this! Hate it; love it, oh for crying out loud we are confused. Now we will get you into it, say hello to the 'Candy Box Game'.
If you visit the Candy Box game website by indie developer aniwey you will notice nothing happens, then all of a sudden things start to appear on the screen, this online game shows things like candles, lollipops, wooden swords, and many more goodies, you wait then collect, then buy and so forth.
At first a Candy Merchant man appears but what we have learned is that players want the Candy Box Dragon and Frog, we have searched the internet for a Candy Box walkthrough and as far as we can see it does not exist.
This is a silly but addictive ASCII-based browser game that we feel should be made into an app, not sure if this is possible as it is a live game that needs to stay open at all times in a browser tab for its continuous play.
You can purchase weapons; there are many quests and items up for grabs. Candy Box in a nutshell is pathetic and just silly but we love it.
Remember Cow Clicker that was made famous on Facebook? Yes that was dumb as well, and we know you will love Candy Box because it is just as dumb.
Do you think there should be a Candy Box game app?
You can see the Candy Box Dragon in the YouTube video below courtesy of zeinzin91.