Samsung Galaxy S4 vs HTC One video qualities test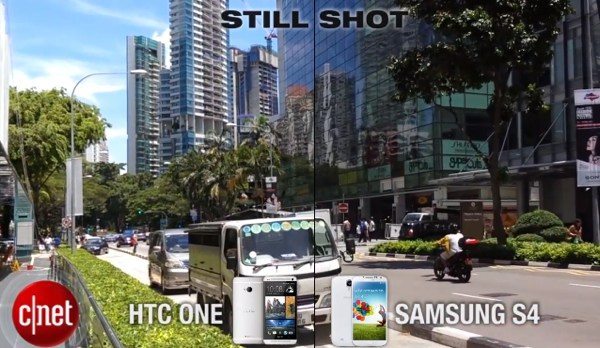 The Samsung Galaxy S4 and HTC One smartphones have been recently released and are both flagship Android devices. We've been bringing you plenty of information on both of these phones and today we have an interesting video comparison for you to view. This shows a Samsung Galaxy S4 vs. HTC One video qualities test and really gives a good look at how they compare against each other.
We've already posted a specs comparison between these two phones including camera details so if you want some more information see here. This new look at the two phones focuses solely on their video capabilities and is a straightforward unfussy look that nevertheless shows as much as you need to know. For the testing both devices were mounted on a rig to make things fair.
The clips shown on the video were cropped to fit as the focal ranges of the Galaxy S4 and HTC One vary but there were no alterations to the quality of the videos or any added effects. First the video shows the still shot where the HTC One comes out top thanks to its built-in optical image stabilization giving a more stable result.
With the panning test though the colors with the Galaxy S4 really come to life, however OIS again gives a smoother performance for the HTC One. A walking shot is also shown where the Galaxy S4 video seems really shaky while the HTC One benefits once more from its OIS system while in the macro shot we prefer the colors with the HTC One compared to the rather cool colors of the Galaxy S4 video.
After this video testing that you can see below this story, Cnet also checked out the Galaxy S4 when using its image stabilization software and found that the performance improved slightly with this although then again we'd expect it to. Overall the video certainly gives an interesting look at the video capabilities of these two phones but the HTC One definitely gives the better performance.
We'd really like to hear reader's thoughts on this. If you check out the video below we'd appreciate it if you head back and tell us your opinions on this comparison between the Samsung Galaxy S4 and HTC One. Which phone would you choose?