10 new iPhone 5 accessories worth buying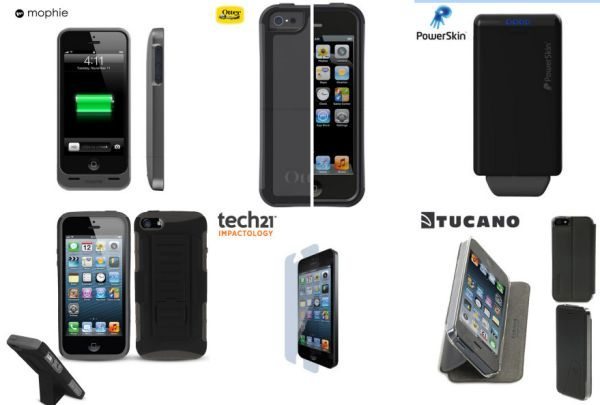 We normally look at five accessories at a time, but today we'll be looking at ten in a quick-fire round: the best new iPhone 5 accessories. Hold onto your hats, and let's get started!
10. Bubblescope 360 Camera Attachment and Case
This is definitely a unique accessory, in the form of a case with a 360 camera attachment. Using the supplied app, you'll be able to take excellent landscape shots that give you a great idea of the surroundings. This is the panorama mode on steroids – definitely check it out if you're an iPhone photographer looking for something new.

9. iBolt iPro Dock
This is the premier all-in-one in-car solution for the iPhone 5, offering full speed charging to ensure that you'll never run out of juice, and a car holder that will keep your iPhone in the right place. The iPhone 5 car holder is case-compatible and can be mounted either on the windscreen or dashboard, giving you a wide degree of freedom. It's highly adjustable too, allowing you to always find that perfect angle.
8. Kensington AbsolutePower Charge and Sync Lightning Dock
As you can guess from the overly long name, this is a dock that charges and syncs Lightning-equipped Apple products – namely the iPhone 5 and latest iPod Touch. While it is technically compatible with the iPad Mini and iPad 4 as well, the low 1A charging rate means that it'll take longer to charge these devices.
7. Mophie Juice Pack Helium
This is a really cleverly designed battery case for the iPhone 5. It adds an extra 2000 mAh of battery power, allowing you to almost double your battery life without adding a lot of bulk. For a battery case, the Helium looks really light and stylish – no doubt that's why it got that 'Helium' moniker.
6. Otterbox Reflex for iPhone 5
Otterboxes are some of the most trusted iPhone 5 cases, so it's cool to see the company bring out a new line. The Reflex is a new series that includes four padded corners to ensure impact resistance, with a slim one-layer design that is a lot thinner than some other Otterboxes.

5. PowerSkin Pop'N for iPhone 5
This is a less stylish battery case for the iPhone 5, which makes up the difference with a much lower price point. While you don't get the enviable style of the Helium, if this is just something you use at the end of the day or for emergencies then it's really a non-issue. Capacity is similar, granting you between 1.5 and 2x the battery life.
4. Rugged Stand Case for iPhone 5
Some products have incredibly descriptive names, and this is one of them. You get an unbranded but high quality case here, with good durability and an integrated kickstand. That's pretty much exactly what you'd expect, but what surprised me was the actual quality of the case – it's very similar to a Case-Mate or Otterbox, without actually carrying that brand name. A good budget option.
3. Tech21 Impact Shield with Self Heal
This is a super high-tech screen protector for the iPhone 5. Unlike most screen protectors, which only use a single layer, this is a multi-layer screen protector that provides protection against shattering and impacts as well as the normal scratches. That's a cool power to find in a screen protector, and it's made better by this one's limited self-healing ability. A top-notch choice that justifies its premium price point.
2. Tucano Libretto for iPhone 5
This is a low-cost, high style case for the iPhone 5. It's made of a combination of impact-resistant TPU and "eco-leather" that looks surprisingly good. The flip case is slim too, and is one of the few flip cases that doesn't make the iPhone 5 seem as chunky as an iPhone 4. A nice little black case that won't let you down.
1. Twelve South SurfacePad
Twelve South found a lot of success with their BookBook brand flip cover, and now they're back with a slimmer and less ostentatious version. The SurfacePad is the name, and it offers a stylish and slim look that still manages to include moderate protection and an integrated kickstand. A great mix of functionality of style that is my top pick for today!
Conclusion
Thanks for reading the article and be sure to let us know what you thought of the selections in the comments below. We really like the PowerSkin Pop'N for iPhone 5, which one do you prefer from the above list?