Verizon's HTC Droid DNA free offer could mean HTC One incoming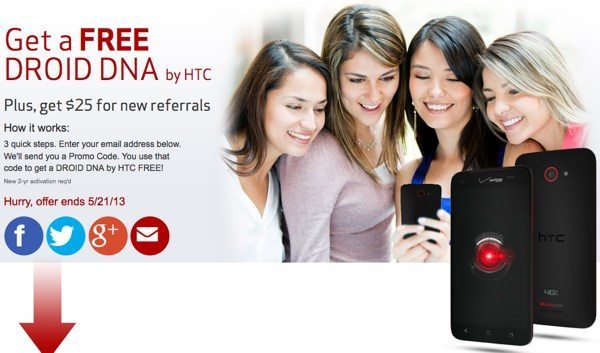 There's some good news today if you've been thinking of purchasing the HTC Droid DNA and maybe some promising news if you are one of the many people hoping that the HTC One is coming to Verizon. It seems Big Red is making the Droid DNA free for a limited time and this has led many to wonder if this is Verizon's way of making a clear path for the HTC One.
Verizon is currently running a promotion for the very impressive HTC Droid DNA smartphone and with a coupon code you could get the phone free. The deal runs through May 21 so you have a week to take advantage of it and it seems a pretty amazing deal to us.
To take advantage of the offer you need to head to Verizon here, input your email address and in a short while you should receive your Verizon coupon code. Simply print out the code and head to a Verizon store near you or use it at Verizon online during checkout and you'll get your Droid DNA free as long as you take out a new two-year contract. As well as this you can also refer your family and friends if they are not existing Verizon customers. If they then switch to Verizon both you and they will receive $25 Verizon Wireless Visa Debit cards.
So what does this mean for those hoping that Verizon might offer the HTC One? Rumors have been growing recently that the HTC One may be coming to Verizon after all and we know from our comments section that many readers would love to see this. We recently discussed this increasing speculation and told how it was a possibility that the HTC One for Verizon could be announced at a CTIA event being held on May 22. Coincidentally, or not, this is the day after the special free deal for the Droid DNA ends.
When Verizon originally did not offer the HTC One the consensus of tech opinion seemed to feel that one of the reasons for this was because the HTC Droid DNA was such a success that it didn't seem necessary to carry the HTC One as well. However now that Verizon is offering the Droid DNA for free this certainly implies to us that the phone could now be making way for the HTC One. Fingers crossed on this idea, which we know would please many.
We'll bring you further news on Verizon and the HTC One if we hear anything. In the meantime we'd like to know what you think of this news. Are you planning to hotfoot it to a Verizon store to get your hands on a free HTC Droid DNA? Maybe you're more interested in the HTC One on Big Red and will wait in anticipation for May 22 to see if it will be announced? Let us know with your comments.