Eurovision 2013 app for Android and iOS offers singalong fun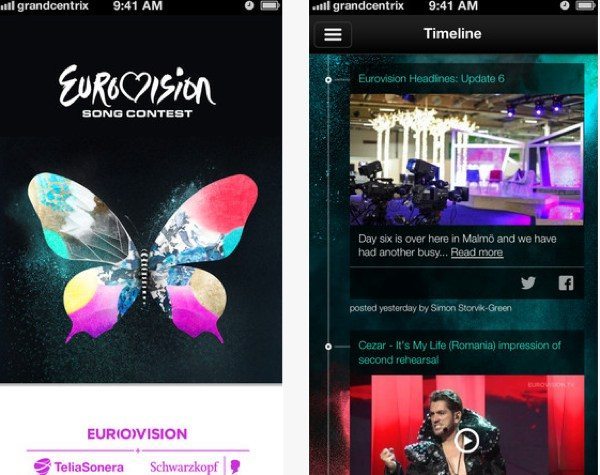 The much-celebrated Eurovision Song Contest takes place on Saturday May 18 from the Malmo Arena in Sweden. The Eurovision show began in 1956 and seems to grow in popularity. There are now over 100 million TV viewers, many of them throwing special parties for the occasion. The official Eurovision 2013 app is now available for Android and iOS devices and we have all the details for you next.
Singers from across Europe will compete to become the next winners of the contest after last year's event was won by Sweden's Loreen with "Euphoria." One bout of the semi-finals for Eurovision took place last night and the other will take place tomorrow (May 16) with the big final on Saturday. The app is free and has plenty to offer Eurovision fans, with all the latest news, live updates when the contest is on and voting from within the app.
The official app for Eurovision has just been updated for this year's contest and now users can follow the event throughout the year with all of the latest developments including the results of national selections. You'll also find gossip, photos, videos and interviews and maybe the best part of all is that when the final is shown on TV you'll be able to see all of the song lyrics so that you can enjoy a singalong. As well as this you can see details on the various artists and countries and those ever-important final results.
The official Eurovision Song Contest app for Android can be found at Google Play here and it's compatible with devices running Android 2.3.3 or later. If you have an iOS device you can find the Eurovision 2013 app at iTunes here. It's compatible with iPhone 3GS, iPhone 4, iPhone 4S, iPhone 5, iPod touch (3rd, 4th and 5th generations) and iPad running iOS 5.1 or later and has been optimized for iPhone 5.
This is a great event and we'd like to know if you will be joining in with the spirit of Eurovision 2013 and using this app from Google Play or the App Store? Which country's entry will you be rooting for? Let us know by sending your comments using the box below.