Nokia Lumia EOS creation with camera focus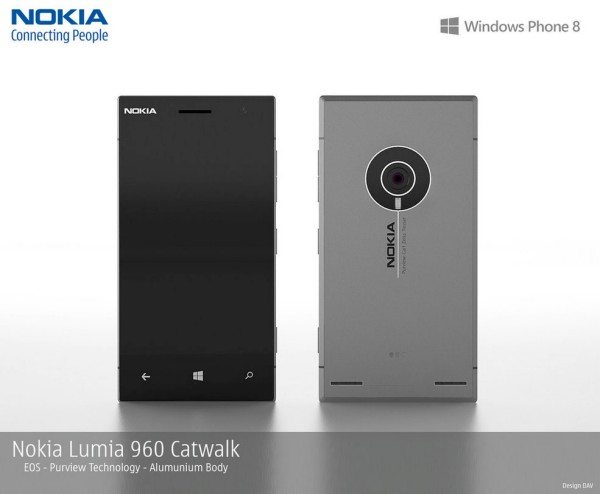 We've been hearing about a Nokia Lumia EOS or Nokia EOS phone for some time and this is set to be Nokia's next flagship device. Rumors infer that the EOS could have a PureView 41-megapixel camera, new Nokia Pro Camera application and is heading for a summer release. While we wait we thought we'd show you a Nokia Lumia EOS creation that we think would win fans if it were the real design.
A while ago we told how Nokia was reported to be testing two different versions of the EOS, one with a dual-core processor and one with a quad-core CPU. Also just a few days ago we told of some design pointers for the phone from somebody who claimed they had seen it. This concept doesn't claim to be the genuine article but is such an attractive design for the EOS that we thought some readers would like to see it.
The Lumia EOS that you can see in the image below this story was designed by DeviantArt member DAVDesigner. You'll note that this has been titled the Nokia Lumia 960 Catwalk but the Catwalk codenamed-device was finally revealed to be the Nokia Lumia 925 when Nokia made this phone official last week. In small print under the 960 Catwalk name though you can see it reads EOS so we're looking at this now as the Lumia EOS.
This concept design steers away from the familiar polycarbonate builds that we associate with the Nokia Lumia line and instead is all aluminum and extremely slim. It features the expected PureView camera along with Carl Zeiss Tessar technology. The EOS concept is focused (excuse the pun) very much on the camera capabilities and also has a Xenon flash, focus assist light and camera lens lid. Other specs are said to be a 768p 4.5-inch display and dual-core processor.
We really like the look of this Nokia Lumia EOS imagining although we wonder if its very angular design would be comfortable to hold. However, all in all we think many potential customers of the real Nokia EOS phone would like to see Nokia take a few hints from this concept creation. What about you, would you like to see Nokia take some inspiration from this design for the genuine EOS phone?
Source: DeviantArt Via: Concept Phones