Android vs iOS is like Beatles vs Stones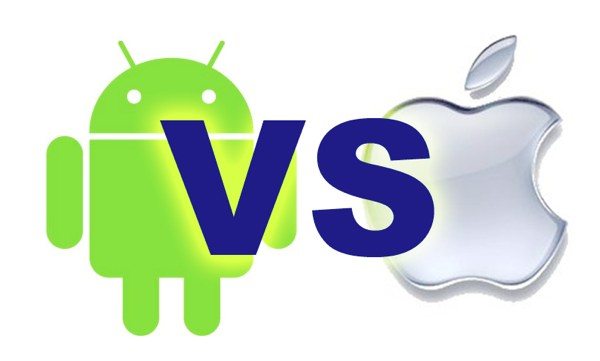 Every tech enthusiast knows that the Android and iOS operating systems and devices that run them are the most dominant platforms in the smartphone and tablet market today. We thought it would be interesting to consider the rivalry that exists between Android and iOS and enthusiasts of both platforms so today we're looking at why Android vs. iOS is like comparing the Beatles to the Rolling Stones.
There is fierce competition between these alternative platforms and indeed other platforms such as BlackBerry and Windows Phone that are trying to increase their presence. Of all the different platforms though, it appears to be Android and iOS devotees who are the most vehement in defense and also praise of their respective platforms.
For example if you take a look at a recent post of ours about the Samsung Galaxy Note 3 Android phone you'll see that in the resulting debate as soon as one commenter gave an opinion that favored Apple that person was swiftly shot down in flames by Android loyalists. This often happens vice versa when we publish a post about an iOS device.
We often publish comparisons of new devices and the debates of readers often get even more heated when the devices concerned are an Android device up against an iOS device as in our post last year about the the iPhone 5 vs. the Galaxy S3. You can see from the comments on that post just how passionately people feel about their preference for Google Android or Apple iOS although we think one reader makes a great point when saying, "They are both great phones, and it's healthy to have both products out there for consumers," adding, "The people that benefit from all this competition is the consumer."
At Phones Review we report on devices regardless of the operating systems they use as we think they all have something to offer. All of the writers on the site use a variety of devices that use different platforms and we try to give the facts about new smartphones and tablets so that readers can make informed decisions. There will always be device users that favor one platform over another and this all adds to the spice of life as everyone is catered for by one device or another.
We were particularly taken with a recent report on BGR where the writer is of the opinion, "the whole obsession with rooting for one side to "win" in the mobile race is a little like Beatles and Stones fans arguing over which band would sell more records in a given year." Brad Reed then goes on to say that it really shouldn't matter as long as the rivalry between the bands pushes them to produce music such as Revolver and Beggar's Banquet.
Surely this is the same as Android and iOS devices? Just as people prefer one kind of movie genre over another or one type of holiday destination over another, as long as everybody has a choice there's room for all. There will always be those who prefer lying on a sun lounger by a pool all day while others want to be poking around archaic ruins for example. This thought is also echoed by Harry McCracken of Time who wrote, " When there are multiple attractive options, and nobody feels forced into using a product unwillingly, consumers win," which seem to say it all really.
We feel that the competition and rivalry between operating system platforms, be they existing ones or creations yet to come, is healthy and productive and something to applaud as ultimately more competition means more choice and that cannot be a bad thing. Now we'd really like to hear from readers about this issue.
In the great Android vs. iOS debate we're interested to hear which platform you favor and why? Do you agree that it would be rather dull to have no competition at all and that strong opposition creates a vigorous mobile market? Let us know with your comments.