Galaxy S4 (Verizon) vs Galaxy S4 (AT&T) software inconsistencies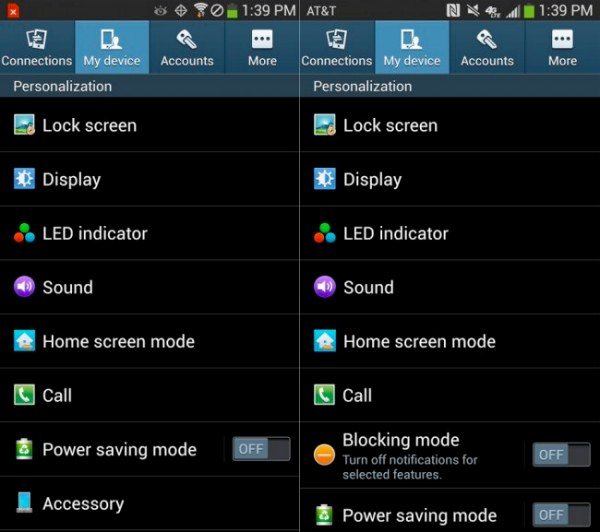 If you are thinking about purchasing the hottest new Samsung flagship device then you will probably have already been checking out the Samsung Galaxy S4. Although the hardware is the same on Verizon and AT&T apart from the odd bit of branding, many potential customers may not have realized that some differences exist regarding the software. We thought we've give you some information about the Galaxy S4 (Verizon) vs. Galaxy S4 (AT&T) with a software comparison.
When we looked into this we were quite surprised at just how many differences there were between the software on the Verizon Galaxy S4 as opposed to the AT&T Galaxy S4 and these include variations to the About screens, notifications, blocking mode, bloatware, apps drawers and Home screens, text changes, starter mode and also some missing apps.
Some of these differences may not be too much of a big deal but users will have various preferences about this. If you are open to buying the Galaxy S4 on AT&T or Verizon then you may want to take these inconsistencies into account before you decide which carrier version to choose.
On the About screens for example both will show Android 4.2.2 but will obviously have different model numbers while the Verizon version kernel is two days later. However Verizon opts to show the hardware version while AT&T does not. We don't think this is something that will bother most users but some other aspects may do.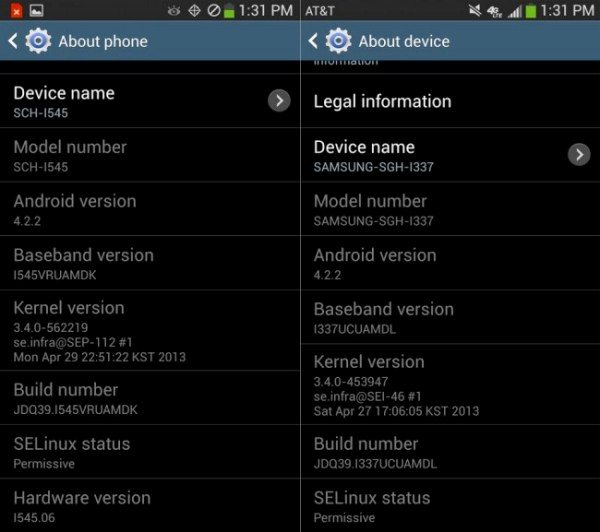 Looking at Notifications these also differ. Verizon has dispensed with the notification pulldown quick toggles Wi-Fi toggle and instead has replaced it with a non-removable reminder notification about turning WiFi on wherever possible. Verizon has also removed some of the toggles from the full list including Blocking mode and Air Gesture, which AT&T customers will still see on their Galaxy S4s. The absence of the Blocking Mode on Verizon's Galaxy S4 could be a bit of a pain for those who like to disable calls, alarms etc. so you might want to consider this.
If you're not a fan of bloatware you may want to avoid the Verizon version of the S4 that has far more than the AT&T variant. Also the Verizon Galaxy S4 is missing some Samsung apps such as Optical Reader and ChatON. We came across this information in a very useful article over on Droid-Life where you can also see images that depict all of the differences and further details. We have included a couple of these images here.
When considering which carrier version of a smartphone to purchase it can be really easy to overlook software differences, however subtle. This acts as a reminder to potential customers of the Galaxy S4 and indeed other devices, to check this out first, especially if there is any particular aspect of software you really find useful.
We'd really like to hear from readers about this issue for the Galaxy S4 on Verizon or AT&T. When purchasing a new smartphone have you previously taken into account any differences there may be regarding software on different carrier versions? Would this be enough to make you jump ship to an alternative carrier for a particular device or do you think that whatever carrier modifications there are, you'd get used to them?