Samsung Galaxy S4 vs HTC One final analysis video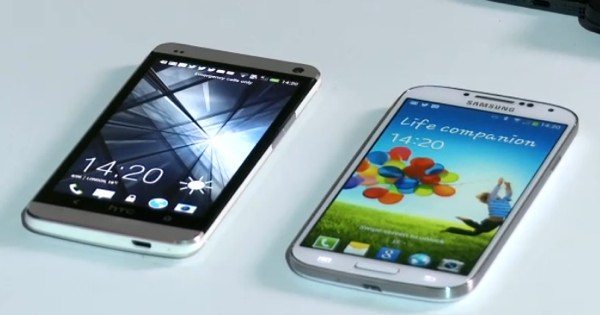 The Samsung Galaxy and HTC One are metaphorically flying off the shelves at the moment. These are flagship Android smartphones for their respective manufacturers, and both are already proving hugely successful. We spotted a new video contrast of the Samsung Galaxy S4 vs. HTC One that shows a good analysis of these two devices.
We have compared these two phones on previous occasions such as our specs article or more recently a low-light video review. This new video made by The Guardian gives us an excellent idea of the Galaxy S4 and HTC One against each other. It might be hard to choose between them, and in this case personal preference of design or what you most use your phone for may help you make your final decision. The image used here shows the HTC One on the left and the Galaxy S4 to the right.
Before you view the 8-minute video we'll give you a rundown of the key specs of both of these phones. The Samsung Galaxy S4 has a 1.6GHz Exynos Octa-core processor or 1.9GHz Qualcomm Snapdragon 600 quad-core processor (dependent on region), as well as a 5-inch Super AMOLED display with resolution of 1920 x 1080 and 441 ppi. The Galaxy S4 also has 2GB of RAM and 16, 32 or 64GBs of internal storage (expandable via microSD), along with an 13-megapixel rear camera and 2-megapixel front-facing shooter. It also has a removable 2600 mAh battery and runs Android 4.2.2 Jelly Bean skinned with Samsung's TouchWiz UI.
Now we'll move on to the HTC One. This one is powered by a 1.7GHz Qualcomm Snapdragon 600 quad-core processor and totes a 4.7-inch Super LCD3 display with the same full HD resolution as the Galaxy S4 and 469 ppi. It has 2GB of RAM and 32 or 64GB of internal storage but this is non-expandable. The One sports a 4-megapixel UltraPixel rear camera and 2.1-megapixel front-facing camera and has a 2300 mAh non-removable battery. It runs Android 4.1.2, soon to be upgraded to Android 4.2 and is skinned with HTC Sense 5.0.
Of course there are more specs and plenty of great features for both of these phones but we've given you a few key pointers. If you check out the video that we've embedded for you below this story you'll see the reviewer begin by showing some of the popular handsets from the last couple of years, before going into more detail about the Galaxy S4 and HTC One. He discusses the designs, form factors and build quality of the handsets as well as taking a look at the home pages, features, cameras and more.
The final analysis of the reviewer goes in favor of the HTC One, largely because of the headphone quality, the excellent premium construction and easier navigation. However, we feel these are both excellent phones. Some may prefer the HTC One because of the above reasons, while others may opt for the Galaxy S4 because of its expandable storage and removable battery as well as other factors.
We're interested to hear your views on the Samsung Galaxy S4 vs. HTC One. If you had the option of either of these notable Android smartphones right now, which would you choose? Why not share your views on this with other readers by sending your comments.
Source: The Guardian