Android 4.3 release teased with LG Optimus L7 2 listing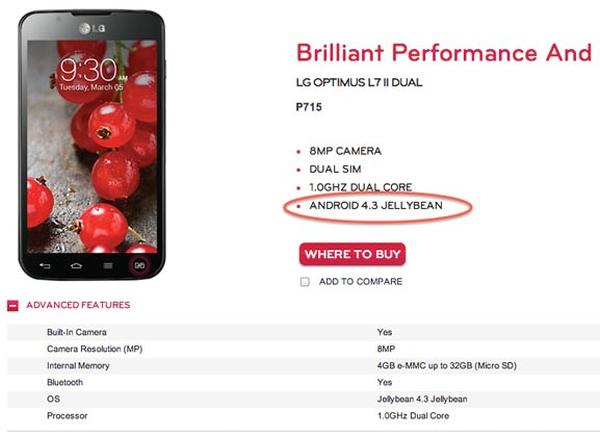 At last month's Google I/O event there were many that were hoping we would see the next big update to the Android operating system, and of course no new software was revealed. Now though the much rumoured Android 4.3 Jelly Bean update has just had its released teased with a listing for the upcoming LG Optimus L7 2.
Google has yet to officially announce the new software and previously there were claims the firmware would make its debut on the 10th of this month, but in the mean time LG has listed the Optimus L7 2 on its website and it clearly shows the device as running Android 4.3 Jelly Bean.
The image that you can see on this page was taken from the official LG website listing for the handset that was originally revealed back in February at the Mobile World Congress. This could just be a typo by whoever created the website page for the handset, but it could also mean the new Android firmware is close to release.
This is not the first sighting of the Android 4.3 Jelly Bean update with it first making an appearance back in April before last month smartphone manufacturer HTC seemingly leaking the details about the firmware. We have also seen some videos that explored the new features of the next version of Android.
There has long been talk that a new version of the Nexus 7 is on its way so maybe this coming Monday before Apple gets its own event underway the Android world may see a new version of the operating system, and a nice new piece of hardware to go with it.
Source: Techtastic.