iPad mini 2 with Retina will reduce iPad 5 sales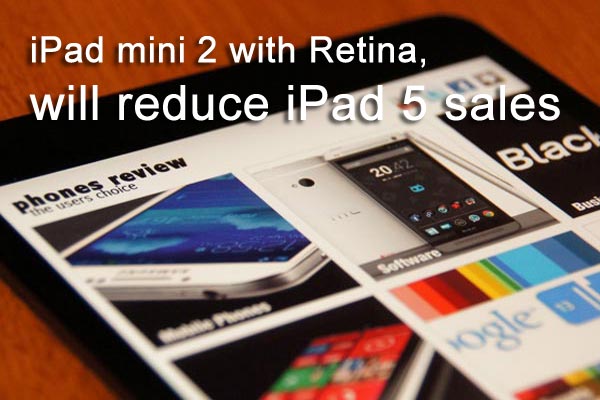 We have had the luxury of owning and testing every iPad and iPhone generation in the Phones Review office, and one notable change last year was the introduction of a smaller tablet from Apple. Now that we look towards the iPad mini 2 release date, expected with a Retina display in fall, it looks like the upcoming iPad 5 sales won't do as well thanks to the success of its smaller family member.
The original full size iPads might not have delivered to those that found them a little bulky, but if you wanted iOS on a tablet then you had no choice other than a 10-inch option. Last year that all changed, and at first we couldn't understand why Apple would want something around 7-inches considering Steve Jobs comments on this topic in the past.
After getting hands-on with the 7.9-inch iPad mini with a much smaller bezel, it all started to make sense. We even traded in a number of our full-size iPads for the smaller iPad mini thanks to the screen being just 2 inches smaller, but the device felt much lighter and smaller thanks to the thinner bezel.
Apple iPad mini 2 with Retina and iPad 5 sales — it will be win-win for Apple and we're sure they're happy for either tablet to be the biggest seller. At the start of last month we saw a report about the iPad mini vs. iPad 4 sales and it revealed the smaller option was eating into the iPad 4 sales in a big way.
This isn't expected to change with the iPad mini 2 and iPad 5 sales. In fact, we expect the iPad mini 2 to become even more popular and eat into the success of the iPad 5 even further than the current generation, which is due to the fact a lot of people are waiting for iPad mini 2 to release rather than upgrade just yet.
Apple's secrecy over how long it will be before a release date only makes the situation worse for how long people will wait.
One person in this exact situation stated, "My wife has an iPad 3 and I have an iPad mini. I'm still not sure which I like more. The mini is really easy to handle but the iPad 3 has a Retina display that's awesome. If the iPad mini 2 arrives with a Retina display, I won't see any advantage in an iPad 5 unless it brings something radical".
Will you be purchasing an iPad mini 2 or iPad 5, and if so what makes you choose between the different sizes? You might want to take a look at some iPad 5 cases that one company is banking on a launch much earlier than expected.