iOS 7 beta downgrade to iOS 6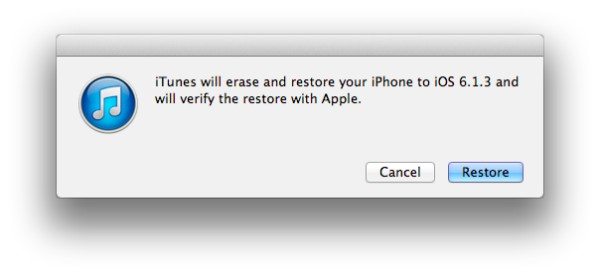 The brand new Apple mobile operating system iOS 7 was finally introduced at WWDC yesterday and is heading for a public release in fall. It is currently available in beta form as iOS 7 beta 1 for developers only and we have details for downgrading from iOS 7 beta to iOS 6.
Although Apple says that devices using iOS beta cannot be restored to previous iOS versions, a method has been found whereby you can downgrade with some simple steps from iOS 7 beta back to iOS 6. If you do so, you can only restore to the latest iOS 6 available for that device, and you will not be able to use your saved SHSH blobs for any device with the A5 chip or later. You should, of course, also remember to back up your data before you downgrade.
To perform this downgrade you first need to download the latest iOS 6 firmware available for whichever device you are using. You can do so at this link. Then you need to launch iTunes from the dock, and following this put your device into DFU Mode. This can be done by pressing and holding the Home button as well as the Sleep/Wake button simultaneously for precisely 10 seconds. At this point you need to release the Sleep/Wake button but carry on holding the Home button until you see an iTunes message that says it has detected an iPhone in recovery mode.
The screen will remain black, and after receiving a message saying the device is in recovery mode tap OK, and you will see a list of devices on iTunes. You need to select your particular iPhone from the list, then hold down the Alt/Option key (or Shift in Windows) and tap on Restore iPhone. A window will then appear, and from this you need to select the firmware file that you previously downloaded and click Open. You will then be asked to confirm the restore, and at this point simply click the Restore button.
Finally the restore/downgrade process will begin, and after around 10 to 15 minutes your device will be back to iOS 6. If you want to see a complete step-by-step tutorial with images, you can do so at iClarified here. Please head back to us though and feel free to send us your comments. Will you be using this iOS 7 beta downgrade to iOS 6?