Samsung Galaxy Tab 3 in tentative UK release date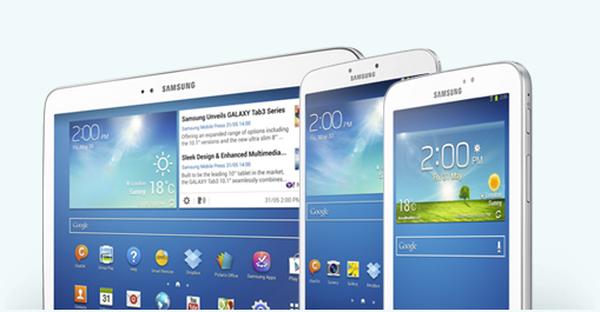 While Samsung has been busy expanding its range of available smartphones in the last few weeks, the company has also announced some new additions to its tablet PC range, and now the trio of Samsung Galaxy Tab 3 devices have been given a tentative UK release date.
The company kicked off proceedings by officially revealing the 7-inch version of the Galaxy Tab 3, while more recently Samsung announced the 8-inch and 10.1-inch versions of the device but at the time the company didn't reveal any pricing or a release timeframe.
Now UK retailer Carphone Warehouse has put up a page on its website suggesting that all three models of the tablet PC will be available at some point next month. It has to be remembered that retailer release dates can prove to be wrong but the Carphone Warehouse normally gets these expected dates correct.
The devices are certainly not ground breaking spec wise but as a quick recap the Galaxy Tab 3 7.0 has a display with a resolution of 1024 x 600 powered by a dual core processor clocked at 1.2GHz with 1GB of RAM. It also has a 3-megapixel camera on the back, 1.3-megapixel front facer, 16GB of expandable storage, 4,000 mAh battery, and the Android 4.1 Jelly Bean operating system.
The larger sized 8-inch model has a display with a resolution of 1280 x 800 that has a 1.5GHz dual core processor and 1.5GB of RAM under the hood. This model will be available in either 16GB or 32GB storage options that can be expanded further via microSD.
Camera wise this has the same front shooter as 7-inch model but has a 5-megapixel unit on the back and will come running Android 4.2 Jelly Bean, while the larger of the three models has a 10.1-inch display at a resolution of 1280 x 800 with a 1.6GHz dual core processor and 1GB of RAM.
This model strangely only has a 3-meagpixel main camera paired with a 1.3-megapixel unit on the front with either 16GB or 32GB of internal storage also available running Android 4.2. Until we get to hear some news on pricing for the three devices we won't know how tempting the devices will become to consumers.
Will you be getting a Galaxy Tab 3?