HTC One vs Nokia Lumia 925, the user wins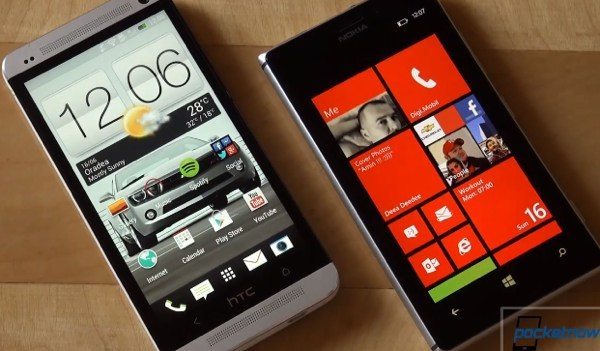 We always enjoy bringing readers comparisons of worthy smartphones, and today it's the turn of the HTC One vs. Nokia Lumia 925. A key difference of these two phones is that the HTC One is an Android device while the Nokia Lumia 925 uses the Windows Phone platform. If your choice of smartphone is not entirely dependent on the operating system platform though, then you may want to see a video showing how they compare.
Both of these phones have been released and will be widely available across different world regions and carriers, although not all regions may have received them yet. They both have a lot to offer and both have impressive camera set-ups. We'll give you a rundown of the major specs of each so that you have a general idea of how they stack up when you watch the video.
We'll start with the HTC One and this device has a 1.7GHz quad-core Qualcomm Snapdragon 600 processor, a 4.7-inch display with 1920 x 1080 resolution and 469ppi, 2GB of RAM and 32 or 64GB of internal storage (non-expandable). The One also totes a 4-megapixel UltraPixel rear camera plus a 2.1-megapixel front-facing shooter, and has LTE connectivity. There's a 2300 mAh battery (non-removable), and it runs Android 4.1.2 Jelly Bean due to be upgraded to 4.2.2 shortly.
Moving on to the Nokia Lumia 925, it's powered by a 1.5GHz dual-core Qualcomm Snapdragon processor, has a 4.5-inch display with 1280 x 768 resolution and 332 ppi, 1GB of RAM and 16GB of internal memory (non-expandable). Vodafone UK has the Lumia 925 variant with 32GB of internal storage. The Lumia 925 also carries an 8-megapixel rear camera with the notable PureView technology, plus a 1.3-megapixel front-facing shooter, and has LTE connectivity. There's also a 2000 mAh battery that is non-removable, and the 925 runs the Windows Phone 8 OS.
It's easy to take a look at the specs and assume the HTC One is the superior phone as it has a quad-core processor, full HD display, more RAM, more internal storage and larger battery. However, both phones miss out on the option of expandable storage or a removable battery. There are impressive camera set-ups on each though, with the UltraPixel camera of the HTC One making each pixel able to capture 300% more light than the average smartphone sensor, while the Lumia 925 camera has the impressive PureView technology.
Now you've had a rundown of what each phone has to offer, why not check out the 8-minute YouTube video below that gives a good look of each phone, courtesy of PocketNow. The video details the design and build, specs, software and user experience, and camera and image quality, and in conclusion the verdict of the video reviewer is that both phones are exceptional and "a joy to use." The Lumia 925 camera is judged to be slightly superior to the camera of the HTC One, but with either phone, the winner is the user.
Ultimately your preference of operating system platform may make your decision, as in our previous comparison between the Lumia 925 and Galaxy S4. Other factors that may affect your choice are the design and build that you favor, but you can't really go wrong with either of these smartphones. Once you've taken a look at the HTC One vs. Nokia Lumia 925 video below, we'd appreciate it if you'd leave us a comment. Are you about to purchase either of these phones? Which one do you choose?