BBC Weather app vs Weather Channel app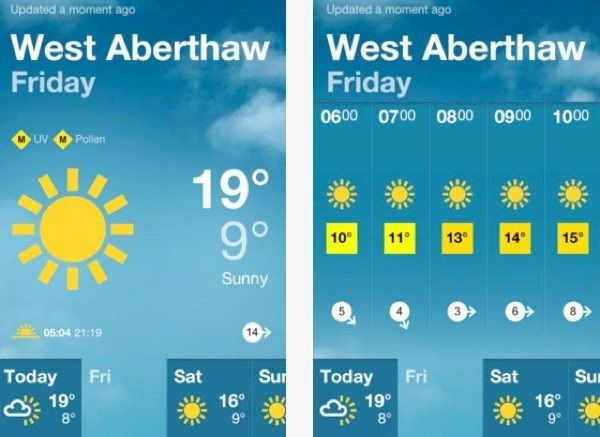 Recently we informed readers about the new BBC Weather app, and it seems this has really proved a big attraction in its early days. It's available as an Android or iOS app and will be direct competition for the more established Weather Channel app. Today we thought we'd take a look at the BBC Weather app vs. Weather Channel app, and we'd really like to find out which one you favour and open this up for debate.
We'll take a brief look at what each app has to offer and start with the BBC Weather app that released earlier this month. This is a free app for iOS and Android and gives you the latest weather forecast at your fingertips. It has a good clear design and features such as location search where you can store your favourites, or alternatively it can use your current location.
As well as this the BBC Weather app gives hourly forecasts and detailed info for the next 48 hours for the UK and a look ahead at 3 hourly intervals for the UK and International. Users can tap the hour for more details of factors such as pressure, visibility and humidity and there's also a daily overview that gives the gen on sunrise and sunset times, UV, and pollen and pollution data.
Moving on to the Weather Channel app and this is also available free for iOS, Android, BlackBerry and Windows Phone devices. This app uses ultra-local TruPoint 15-minute forecasting technology to help you plan your day. Just a few of the features are travel watch, precise times for expected rain, 15-minute, hourly, 36-hour and 10-day detailed weather conditions and forecasts, accurate and localized maps and customizable map layers, as well as severe weather push alerts and badges.
Features of theses two apps may vary according to the device platform you are using, but as you can see both apps have a huge amount to offer consumers. You may simply prefer one more than the other by the interfaces alone. Of course, if you use both apps you may feel that one is more accurate than the other. You can download the BBC Weather app for iOS at iTunes here or the Android app at Google Play here. You can also find the necessary download links for iOS, Android, BlackBerry and Windows Phone Weather Channel apps here.
We would really like to ask readers to get involved and are asking for your views on these two apps to get an idea of which is the best. In the BBC Weather app vs. Weather Channel app debate, we'd like to know which you use and why? If you use both, tell us which you prefer? Have you noticed one is more accurate than the other? Let us know with your comments