iPhone 5S vs. Light from design plans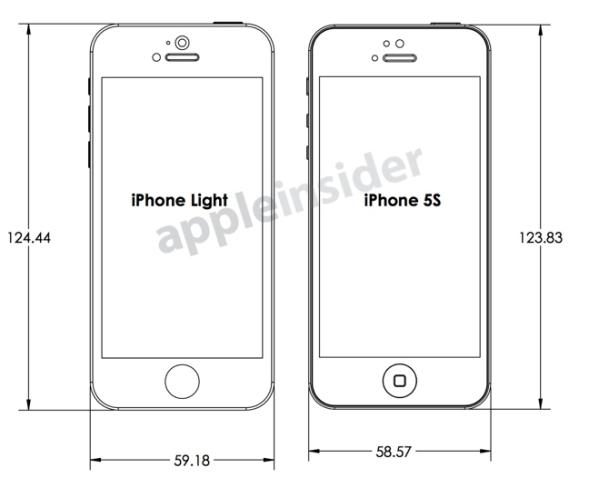 Normally within a few months after the latest Apple iPhone model has been released to the world we start to see numerous leaks and speculation to what might be coming next, and this can often include cases for announced products being produced early. It is widely believed that Apple will be offering a minor upgrade to the device this year and release an iPhone 5S, but some design plans again indicate a budget model is in the works.
It seems that accessory manufactures have already started to produce cases for a budget iPhone based on some designs that have allegedly come from Apple. The device is supposedly called iPhone Lite and comes with a slightly thicker form factor with curved edges, and sources in the industry believe the blue prints are the real deal.
The device if accurate will look similar to the current iPhone model with the same sized display with the home button and FaceTime camera in the same positions, but will be slightly wider and taller than the iPhone 5S.
These plans are suggesting that the flagship iPhone model for this year will mainly use the same design as the iPhone 5, while the budget model will be 0.8mm thicker with its back edges rounded off.
The design details for the iPhone Lite fit in with previous rumours about a budget smartphone being in the works and show the device is using a single LED flash to accompany the camera while the iPhone 5S will use a dual flash.
Chinese case makers have manufactured accessories in the past that didn't fit in with the design that was eventually released to the public, and we have been seeing a steady stream of alleged components for the iPhone 5S leaking out recently.
It is thought that any new iPhone model will arrive around September and in the meantime we can expect to see these apparent leaks increasing in number.
Source: AppleInsider.