Galaxy S4 vs. iPhone 5 browser review on beta 2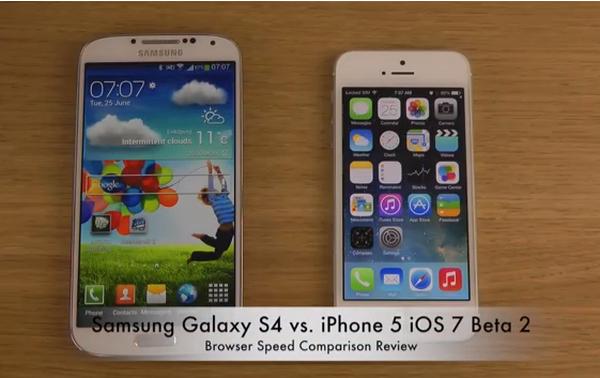 Since Apple began pushing out beta versions of the iOS 7 firmware we have been able to see how the new software performs in a number of tests. Now following on from our article yesterday, we have an additional video looking at Galaxy S4 vs. iPhone 5 with iOS 7 beta 2. This video performs a browser comparison and takes into account the latest iOS 7 beta update.
Yesterday we looked at speed differences between the Samsung Galaxy S4 and the iPhone 5 running iOS 7, and now that a new beta has been released we have another video that can be seen below that is comparing them again.
The latest iOS 7 beta update has brought with it a lot of bug fixes that we covered earlier in this article, and the LCD display on the iPhone 5 makes the text look clearer thanks to the whiter background.
On the Galaxy S4 the stock browser does look more ugly than Safari on the iPhone 5 in the iOS 7 beta, but many users would simply download something else from the Play Store. Performance wise the Galaxy S4 has the mini Android button that opens up a number of options with some of them are not in Safari, such as the desk top view that can prove really useful if you like to view the full website.
There is also a brightness section that has now been added to Safari via the control centre, and loading speeds it seems the iPhone 5 is a little bit quicker than the S4. For some reason the two phones wasn't showing the same articles but it has to be remembered a lot of Galaxy S4 users will be using a third party browser that will prove to be quicker than the stock app.
Out of the two stock browsers though the Safari offering on the iPhone 5 was preferred due to its better UI and speedier performance.