iPhone 5 vs. 4S, 4 on new iOS 7 beta update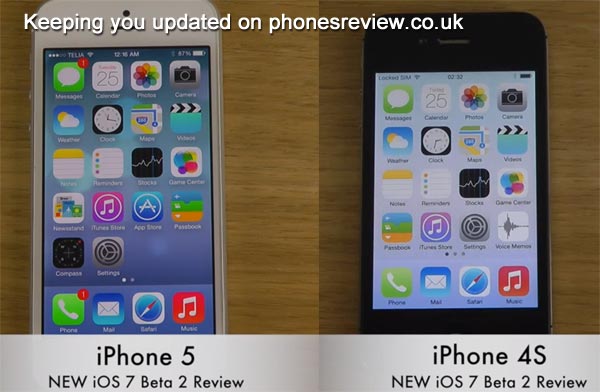 Since Apple unveiled what is coming with the next update to its iOS operating system there have been a lot of users looking forward to the changes that it will bring to their mobile device. While we wait for iOS 7 to be released today we have the iPhone 5 vs. 4S, and iPhone 4 running the new beta update.
First up we have the iPhone 5 running iOS 7 with a build number of 11A4400f that brings some new features to the handset, and the latest beta release includes the return of the Voice Memos application. This is demonstrated and once you have recorded a message you can easily send it to your friends via email or message.
Siri now has new male and female voices that can be quickly changed by the user via the settings option of the app, and the app has been improved from the current offering. In the Control Centre at the bottom there is also a new icon for the clock, and the weather app has a new option for adding more cities.
With iMessage in a group chat you now get avatars and can also see the time and the lock screen has got slightly quicker from the previous beta of iOS 7. The FaceTime app has been tweaked with a transparent look that has also featured in the keyboard.
The iCloud settings now have the option at the bottom of finding your iPhone remotely and new wallpapers have been added on a different page along with multitasking now being quicker. The other videos run through the changes on both the iPhone 4 and iPhone 4S that include some of the same changes made in the iPhone 5 version.
Obviously some of these are hardware specific such as the Siri app but the Safari browser now features some quick short cuts when it is opened for the first time, and loads up pretty quick on the handset, especially compared to the iPhone 4.
The camera app panorama mode has been updated for both the iPhone 5 and 4S making it easier to use, but it has to be remembered that this software is still a beta so will have some minor glitches or bugs. Watch the videos in full and tell us what new features of iOS 7 you are most looking forward to.