iOS 7 for iPad 4 with changes visually explained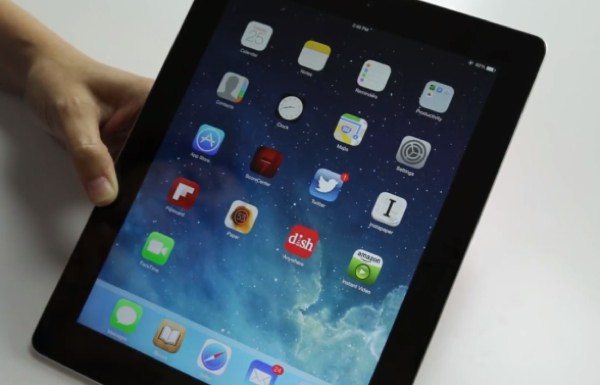 There has been a huge amount of interest in iOS 7, the next major upgrade to Apple's mobile operating system. It's scheduled for a public release in fall, but at the moment it's in the hands of developers and currently at the beta 2 stage. If you want to know what iOS 7 will look like on your iPad, we have an interesting video for you of iOS 7 for iPad 4 with the changes visually explained.
Previously we gave you a image of how iOS 7 looks on the iPad 2, iPad mini and iPad with Retina display (iPad 3 and 4), but this video gives a really good demo of iOS 7 on the iPad. When iOS 7 is released for the majority, it will be a big change from iOS 6 as the new iOS has a much, cleaner, flatter look and plenty of improvements. Devices that will be compatible for the iOS 7 update will be the iPhone 4, 4S and 5, iPod touch 5th generation and later and the iPad 2, iPad 3, iPad 4 and iPad mini.
Now that iOS 7 beta support has become available for the iPad and iPad mini this YouTube video offers a really good idea of how the iPad will appear when running it. The video is almost 9-minutes long, and although we've seen plenty of videos showing iOS 7 on the iPhone, it's good to see it on the larger display of the iPad. The video begins by showing the new Control Center feature and then moves on to the home screen and points out some changes for the icons, following the move away from the old skeuomorphic look of iOS 6.
It goes on to demo many of the changes with close-up looks showing everything clearly, such as Photos with collections and year features, Game Center, the Siri voice assistant with some enhancements and much more. We were impressed with the video and the insight that it gives iPad users, so do please check it out below this story, and let us know what you think of the upcoming revamped iOS.
From what you can see on the video, are you really looking forward to updating your iPad to iOS 7? Do you find the simpler, more minimalistic interface of iOS 7 pleasing, or maybe you wish Apple had stuck with the previous design? Let us know with your comments.