Samsung Galaxy S4 5500mAh battery now available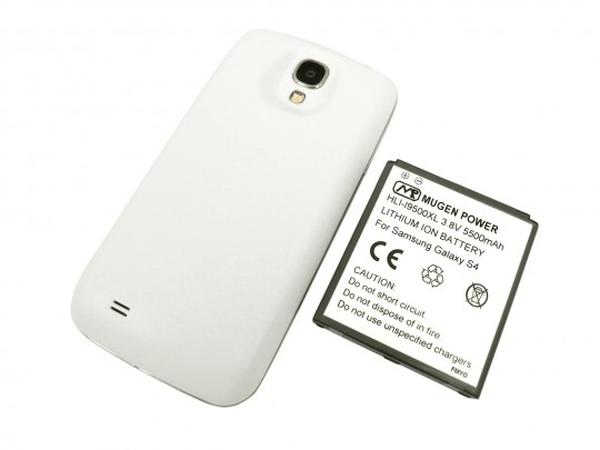 Battery life can be a touchy subject for many smartphone owners with some handsets barely lasting a full day in between charges, but luckily there are some devices that have removable batteries so when they begin to lose their life or if the user wants something bigger there are options available. Now we can tell you that the 5500 mAh battery is now available for the Samsung Galaxy S4.
The Samsung Galaxy S4 comes with a 2,700 mAh battery already installed and when we were testing the device for our hands on review it was found to be more than competent, but there will always be some users that want longer for various reasons.
Now the guys from Mugen Power have a nice big boost in battery power for Galaxy S4 owners in the form of a 5,500 mAh extended battery. The new accessory promises to double an owners battery life on the Galaxy S4 and it also comes with a replacement rear cover to put over the battery once it has been installed.
With this installed it could provide enough power to last between 3 to 4 days depending on the usage, but obviously it will add some thickness to the handset with the Mugen Power 5,500 mAh extended battery costing $89.50 with the rear cover and a leather case.
It is available in either white or black and shipping will begin towards the end of the month with free worldwide delivery available, and you will still be able to use the NFC feature on the handset.
Do you need a bigger battery on your Galaxy S4?