Micromax Canvas 4 launch time set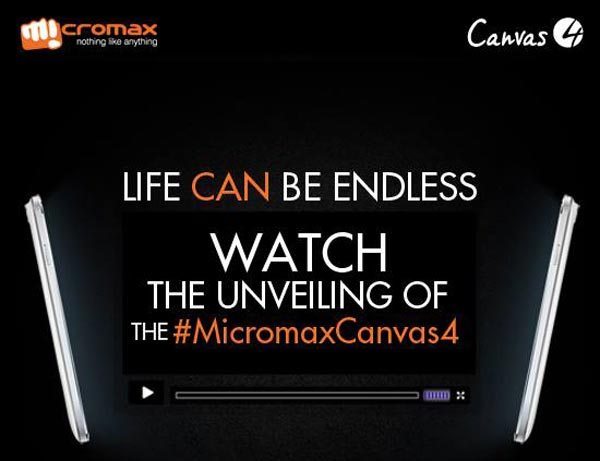 The Micromax Canvas 4 launch time has been set in stone and will bring full specification and the retail price. These details have stopped some people from ordering and a number of our readers stated, "until the Micromax Canvas 4 price and specs are revealed I won't place an order".
We previously explained the Micromax Canvas 4 would launch with a live video stream, although the exact URL is yet to make an appearance but we will make sure our readers are one of the first to know.
In the latest Facebook update within the last hour, Micromax teased one of their latest images that includes a video play button and reminded followers of the Facebook page to be sure to watch live on July 8.
Their message stated, "catch the live unveiling of the all new Micromax Canvas 4 tomorrow at 12PM sharp". This means the launch will be at noon and we would expect this to be Indian time, so for our UK readers that's around 4:30pm. In the United States and New York, this would be around 11:30am.
Will you be watching the Micromax Canvas 4 launch live? Keep connected to Phones Review, as we will bring you the full Canvas 4 specs, final price and more details as they arrive. We will also post a link to the live video coverage when this is made available, so you should expect that later today or tomorrow morning.
In our opinion, the Micromax Canvas 4 specification will include a bigger battery than most rumors have suggested and more memory at around 2GB. You should also expect a 1080P display, but if we are wrong then you can be sure to see a number of refunds given for those that pre-ordered without full details.