Line app vs WhatsApp evaluated for 2013 chat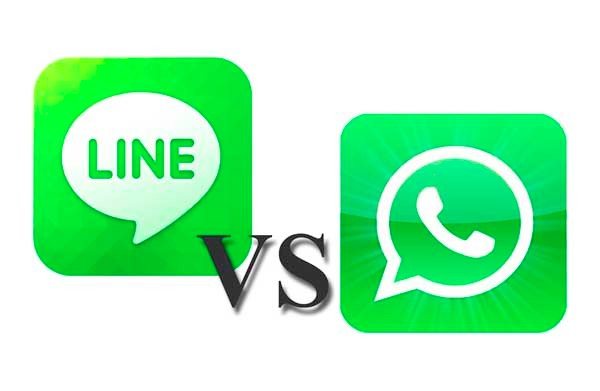 There are some great social networking and communication apps available for smartphone and tablet users, and two that are of interest are LINE and WhatsApp. These are both extremely popular and are available for Android and iOS devices from Google Play or the App Store. We thought we'd take a look at the Line app vs. WhatsApp, giving an idea of what they each have to offer and evaluating them for 2013 chat. What we'd really like to know is what readers think of these apps?
We'll begin with the LINE app, and this one is available for both Android and iOS devices. It offers a good experience for social networking with unlimited calling and messaging 24 hours a day, that's free voice calls and free messages. LINE is now available in more than 230 countries around the world and has over 180 million users. Features include high quality voice calls, a message function with icons, photo sharing, location information, ways to express yourself with stickers and Emoji, and much more.
LINE also has a timeline feature and you can leave messages and comments, and there are now LINE official accounts for popular celebrities, and also money saving opportunities via coupons. Data transfer fees may be incurred though so if you have an unlimited mobile price plan that's good news. LINE is a free app and for Android devices it's available from Google Play here. This is compatible with devices running Android 2.1 or later. For iOS devices head to iTunes here. This one is compatible for iPhone, iPad and iPod touch running iOS 4.3 or later. Both the Android and iOS apps have recently been updated with minor bug fixes.
Moving on to WhatsApp Messenger, and this is another app that is highly rated. As its title suggests this is a smartphone messaging app, and it uses 3G or WiFi where available, to enable you to easily communicate with family and friends. If you switch from SMS to WhatsApp you get the first year free and it's then $0.99 yearly afterwards. Once you've downloaded the app, chat is unlimited and there are no hidden costs. You can send photos, videos and voice notes to your contacts and enjoy group chat, and there are also no international charges if your friends are also using the WhatsApp Messenger app.
WhatsApp integrates with your existing phone address book and there's no need to log in and out as you are always connected. If you miss a push notification, messages can be saved offline for later retrieval, and other features include location sharing, contact exchange, custom wallpaper, custom notification sounds and much more. The Android WhatsApp Messenger app is available free from Google Play here and is compatible with devices running Android 2.1 or later. WhatsApp for iOS devices is available from iTunes here priced at $0.99. It's compatible with iPhones running iOS 4.3 or later.
Taking a look through user reviews of these apps we can see that both apps have a lot of fans. LINE for Android manages a rating of 4.1 stars while WhatsApp attains an extremely high 4.6 star rating. Many of the comments about LINE have a lot of positive things to say about the stickers available. Looking at comments for WhatsApp reveals that many also people love this app. However, in reviewing comments from the last few days it seems that there are some complaints about the app crashing lately and some iOS users regret that the app cannot be used with the iPad or iPod touch.
We'd like to gauge opinion about LINE vs. WhatsApp by asking readers to get involved. If you use either of these apps, what do you think about it? Maybe you've used both apps but have settled on your favorite? If so, which do you prefer? Let us know with your comments.