New IFTTT iPhone app interactivity at its best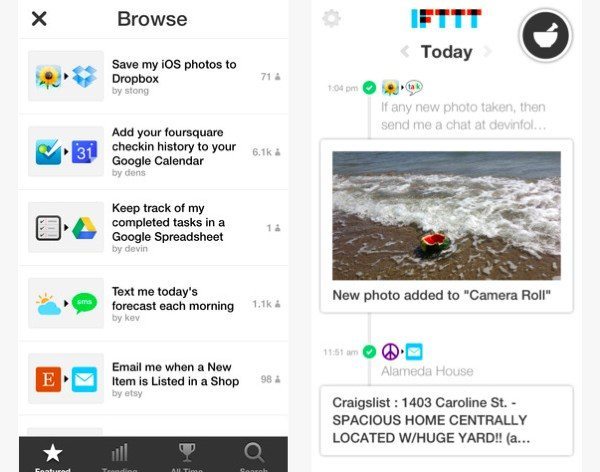 There are some excellent productivity apps around for mobile device users, and today we have some news about a brand new IFTTT iPhone app for interactivity at its best. If This Then That (IFTTT) is a service, whereby users can connect two apps together to make both more useful, and it's now available for iPhone and iPad.
These connections are based on particular parameters, and the service enables users to string together the things used on their computers or phones. The connections for IFTTT are referred to as recipes and users can create these recipes by specifying 'This' and also 'That,' for channels such as Facebook, Gmail and Twitter.
An example of this given by Mashable is that a user could choose to receive an SMS message if they are tagged in a Facebook photo. Another example would be opting to save Flickr photos to Dropbox. Although IFTTT has previously been available as a web service, it only arrived for iOS devices yesterday. The iOS version of IFTTT also has some exclusive features specifically for iPhone.
If you're interested in checking out IFTTT for iOS devices, then check out the app at iTunes here. It's a free app that's compatible with iPhone 3GS, iPhone 4, iPhone 4S, iPhone 5, iPod touch (3rd, 4th and 5th generation), and iPad, running iOS 6.0 or later. We took a quick look at user reviews on the app description, and so far it's receiving plenty of 5-star ratings.
We'd like to hear from you if you download IFTTT from the App Store for your iPhone or iPad. What are your thoughts about the usefulness of this iOS app? Maybe you already used IFTTT on the web and are happy to finally see an iOS version? Let us know with your comments.