Nexus 4 visualized with Android 4.3 Jelly Bean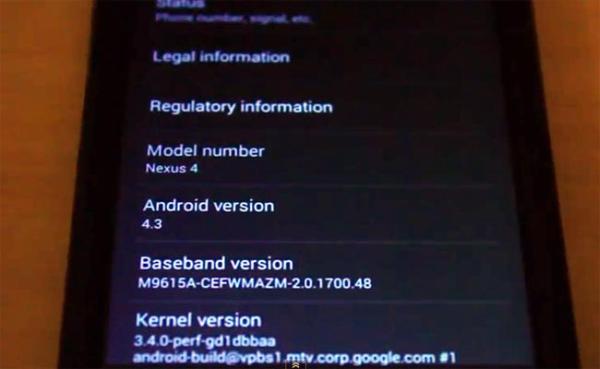 Up until the recent Google Play Editions of the Galaxy S4 and the HTC One were announced, Android fans wanting a pure vanilla experience of the operating system would have to purchase a Nexus device, and we now have a video that has the Nexus 4 visualized running the Android 4.3 Jelly Bean OS.
We have seen a number of sightings of the Android 4.3 Jelly Bean update even though Google hasn't officially confirmed its existence yet, but this should change in the next few days now that a press event has been scheduled by the company.
The video that you can see below this article clearly shows a Nexus 4 that is already running the Android 4.3 Jelly Bean operating system, and there is not thought to many changes coming in the firmware with most things going on behind the scenes to improve performance.
It is only a short video and basically highlights the fact it is running the later firmware but there have been leaks of the software made available for those that are brave enough to install it onto their device, which we wouldn't recommend doing at this time.
According to SlashGear the original leak came courtesy of a second hand Nexus 4 that was purchased on Craigslist via a Google employee, and the device had the 4.3 version of Android installed instead of the 4.2.2 version that other public versions are running, which then saw the software put out into the wild.
If you fancy having a go at installing the custom ROM yourself an XDA Developer user has put together all that is needed to achieve it, but only do this at your own risk.