Moto X launch date not too long away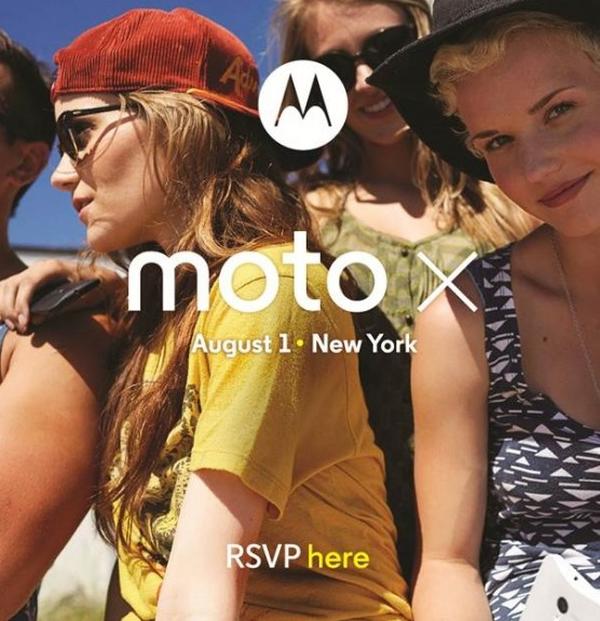 While many upcoming smartphones are surrounded by unofficial leaks and speculation until they are showcased by the manufacturer, the Moto X has been slightly different with the company slowly letting out little teases about the device. Now the Moto X launch date has been set that is not too long away.
The company made the device official a while ago now and has kept providing consumers little teases about the device without actually listing anything specific, but now the company has been sending out press invites to an event taking place in New York City on August 1st.
On the image of the press invite two examples of what must be the Moto X can be seen in black and white colour finishes, and the plastic design can be seen, but the invite doesn't reveal the wide range of colours and materials that have been rumoured for the handset.
The handset looks to have the camera positioned at the centre of the handset on the back with the flash unit below, and a jack is also visible on the top of the device. The handsets sensors are supposedly going to make the handset standout from the crowd to predict what a user is going to do next, and to pick up when you are travelling in a vehicle.
Other specs of the Moto X are thought to include a 4.7-inch HD resolution display powered by a quad core 1.7GHz processor with 2GB of RAM, and you would have thought the device would come running the Android 4.3 Jelly Bean operating system.
The device is expected to release on all the major US carriers but its availability outside of the US and Canada remains in doubt as it is manufactured in the US with consumers being able to specify certain features of the device before its delivery a few days later.
There have been rumours that the company will provide the likes of Europe a device that will be priced cheaper than the Nexus 4 that will have some worthy specifications instead of the Moto X.
Will you be giving the Moto X some consideration?