Samsung Galaxy S3 seen with Android 4.3 on board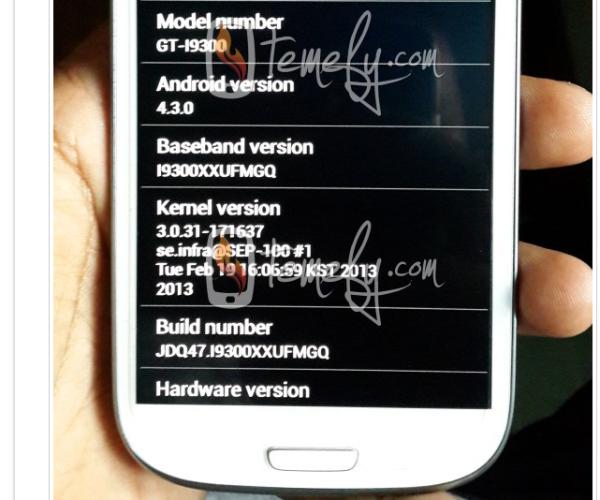 The mobile world is looking forward to see a number of new things that will be unveiled by Google this Wednesday at a press event in San Francisco, and one of these is widely believed to a minor update to its mobile operating system. Today we have an image that shows the Samsung Galaxy S3 with Android 4.3 Jelly Bean on board.
We recently heard talk that Samsung had pulled the Android 4.2.2 Jelly Bean update for the Galaxy Note 2 and Galaxy S3 in favour of the later firmware, which was well received by a number of our readers as long as the update didn't take too long to arrive.
Now the image that you can see on this page is clearly showing the Samsung Galaxy S3 with the Android 4.3 firmware running on the handset, which is reportedly a test version of the operating system. It is being claimed that Samsung has been working on both the Android 4.2.2 and 4.3 operating systems side by side.
There are two teams that are reportedly working on the new software for the Note 2 and Galaxy S3, and another one has been working on the software for the standard version of the Galaxy S4 along with another device.
This is possibly the yet to be announced Samsung Galaxy Note 3 that should be making its debut at the beginning of September, although there is no guarantee that it is. We have already seen the Galaxy S3 running Android 4.2.2 in various videos but it seems that Samsung is just going to skip this for a later version of the firmware.
Android 4.3 is not thought to offer many more features than the previous version of Android except some performance improvements and Bluetooth LE. With any luck if Google announces Android 4.3 this week OEMs can get the update out the door as quickly as possible.
Do you think it will take Samsung long to release the update?
Source and Image: Temefy.