Samsung beats Apple in smartphone shipment growth
Apple has yet to announce its fiscal third-quarter earnings it today we can reveal that Samsung beats Apple in smartphone shipment growth, the new estimates we are about to reveal comes via the market research team at TrendForce.
The estimates for Q2 2013 are superb fro Samsung but not that great for falling Apple when it comes to smartphone shipment growth, the total estimate arrived at 221 million units overall for Q2.
The Q1 to Q2 2013 saw a massive jump for Samsung and a huge drop in shipment sales for Apple, iPhone sales dropped by 12.1% with only 27 million iPhones sold in the second quarter. The iPhone is one of the best selling devices for Apple at the moment and seeing as the iPhone 5S is not expected to release until October Apple's shipments will continue to fall.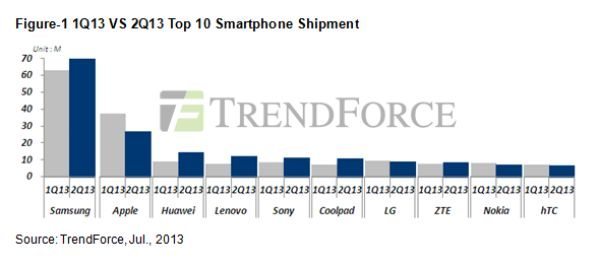 Samsung are no doubt Apple's rivals but they seem to be doing alright, with a massive 71-million smartphones sold in the same period. Samsung gained a staggering $8.3 billion profit, they sold 23 million Samsung Galaxy S4 units alone in Q2. Some may think that Apple selling 27 million iPhones is better than Samsung's 23 million, but Apple's figures are based on the whole iPhone line, the S4 shipments were 23 million.
iPhone 5 sales reached 22 million units in Q2, the whole smartphone shipment sector is up by 31.4% from the same quarter last year, looks like smartphones are a big industry and only but getting stronger.
Here is the top 10 in smartphone shipment starting from the highest: Samsung, Apple, Huawei, Lenovo, Sony, CoolPad beat LG to the post in sales and then came ZTE, Nokia was in 9th with HTC falling right behind the rest.
What smartphone did you buy this year?