Samsung Galaxy Tab 3 10.1 video review and sample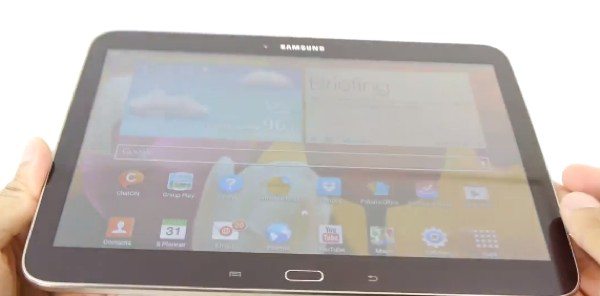 The Samsung Galaxy Tab 3 10.1 tablet device is expected to release soon, and we've already given readers some information about this device. The Galaxy Tab line is pretty mid-range and they don't have particularly impressive specs. However, this range of tablets is pretty popular, and today we have a Samsung Galaxy Tab 3 10.1 video review and sample to share with you.
The videos that you can see below this story will give you a good look at the upcoming tablet and an idea of what it offers. Hopefully it may help you to decide whether you want this to be your next tablet purchase or not. We'll give you a rundown on some of the key specs for the Galaxy Tab 3 10.1 before we move on to the videos.
It's powered by a 1.6GHz Intel Atom dual-core processor, has a 10.1-inch WXGA LCD display with resolution of 1280 x 800 and 149 ppi, 1GB of RAM, and 16 or 32GB of internal storage (expandable via microSD). It also has a 3.2-megapixel rear camera with 720p video capture, 1.3-megapixel front-facing camera, and 6800 mAh battery. It runs Android 4.2.2 Jelly Bean skinned with Samsung's Touchwiz Nature UX.
The first YouTube video below this story is a 9-minute review of the Samsung Galaxy Tab 3 10.1. It begins with a look at the build and design of the tablet, which is lightweight and also very slim. It goes on to look at the display and shows you around the hardware before moving on to the interface and functionality. Other aspects detailed include the processor (the performance is noted as unimpressive), connectivity, cameras, features and more.
The price is described as reasonable at $399 for the 16GB version but overall there's not a lot of positivity for the device. Pros are seen as the thin and light build and very good battery life but a major drawback is the tablet's sluggish performance. If you check out the video for yourself you'll see a final rating for the tablet, but we're not giving too much away if we tell you it might be worth considering an alternative.
The second video below this story shows a brief outdoor video sample taken with the Samsung Galaxy Tab 3 10.5. If you're really interested in a more high-end device, you may like to look at our earlier story today about a high-spec 12.2-inch tablet from Samsung that could be released in fall.
Let us know what you think about the Samsung Galaxy Tab 3 10.1 tablet. Do you think the device is worth considering because of its realistic price tag? Maybe you think it just doesn't offer enough and will look for an alternative? Send us your comments on this.