Android Fitness apps 2013 that won't cost a penny
If you are looking to get a little fitter and lead a healthier lifestyle there is now a lot of things you can do to help you achieve your goals, and today we are looking at some Android fitness apps for 2013 that won't cost you a penny.
The free application RunKeeper was recently updated and has over 20 million people using the app to help them keep fit, and the app will track a users running, biking, hiking, and more by using the GPS in your Android device.
Users are provided with detailed stats that provide pace, distance, time, and calories burned with the option of listening and controlling your stored music during a workout. As you use the app you can update it with your latest weight to keep the calories burned accurate. Head over to Google Play to find out more or to download this highly rated fitness application.
Another recently updated app is Calorie Counter- MyFitnessPal that has the largest database of any Android calorie counter app with more than 2 million and more being added daily. Users can use the barcode scanner to find out about foods while shopping and it will help you track calories, carbs, fat, fibre, sugar, protein, cholesterol, and much more.
There are also over 350 exercises in the app with users having the option of creating an unlimited number of custom exercises, which include cardio, strength training, and much more. Again this can be found over on Google Play and the update includes an enhanced interface with improved navigation along with some bug fixes.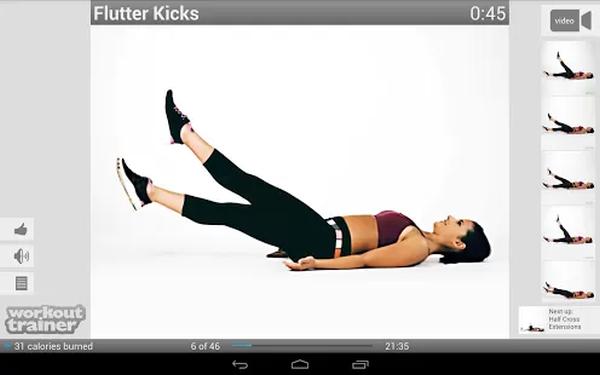 Workout Trainer has also been updated this month and contains loads of free workouts that are demonstrated by certified personal trainers. This is achieved with timed step by step audio, photo, and video instructions that make the app the ideal fitness companion. Users can also choose an area to focus on such as lose weight, get a six pack, yoga, and much more, and this highly rated app can be found on Google Play.
The VirtuaGym Fitness Home & Gym app has full workouts that are ideal for the home or at the gym with clear 3D demonstrations and instructions. Users can create a free online profile that will provide access to over 400 exercises and 100 workouts, and these can be synched to the app to use at home or at the gym.
This has also got positive reviews from users and the update earlier this month provided an improved Facebook login, added support classes for clubs, and fixed some bugs. Hit Google Play to find out more or to download.
Ab workout A6W was only updated two days ago and promises to provide a six pack in six weeks using a daily workout with 6 exercises to perform, although it doesn't promise to help users lose weight. These exercises can be done at home and is highly rated by Android users, and hit Google Play to download and to find out more details.