Samsung Galaxy Folder, the return of the clamshell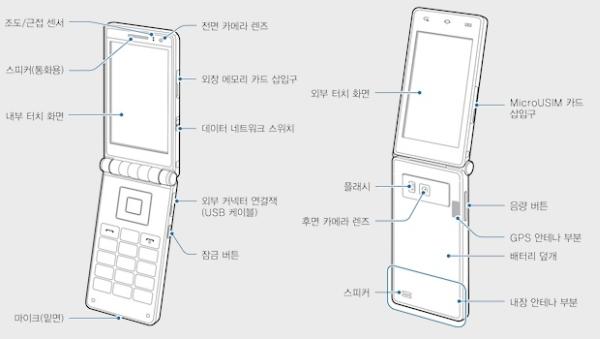 Samsung has a vast range of Galaxy smartphones on offer to consumers at various price levels with most of them having a similar design, but evidence is growing that there could be the return of the clamshell handset thanks to the Samsung Galaxy Folder.
We heard talk about the possibility of a new flip phone being developed by Samsung last month and now a manual has been found on the company's own website that was dated July 2013. The image that you can see on this page is from the manual that is labelled version 1.0.
It can clearly be seen that the device looks just like the old traditional clamshell type mobile phone complete with its numeric keypad along with the navigation pad in the middle. There looks to be a small display on the other side, and it seems the device will be running Android.
There is also a display that looks to actually be a AMOLED touchscreen sized at 3.7-inch with a resolution of 800 x 480 on the outside of the handset, and other specs are rumoured to include a Qualcomm dual core Snapdragon 400 processor paired with 2GB of RAM, as well as 4G LTE connectivity.
Previously it has been suggested that the device would be launched sometime this month and there still could be a lot of consumers that fancy a flip phone.
Do you like the idea of this mobile phone from Samsung?
Source: The Register.