Android Device Manager vs Apple's Find my iPhone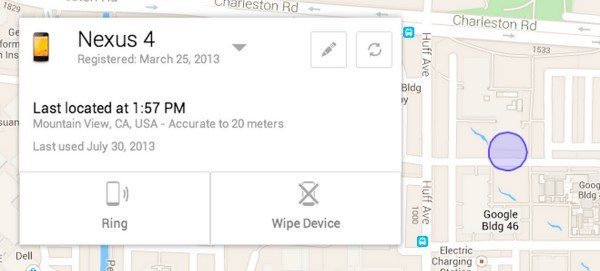 Plenty of our readers are users of Android devices and will be pleased to hear about the Android Device Manager phone finder service. This is coming via a Google Play Services update and although this was initially announced as coming later this month, some users have reported that the rollout has already begun. Today we want to look at Android Device Manager vs. Apple's Find my iPhone app as they both offer similar services.
Android Device Manager incorporates a website and an Android app although the Web interface and standalone app have not yet been launched. The rollout of the Google Play Services update that introduces the Device Manager service is already underway though. This service will enable users to find their device if it has been mislaid, as it is possible to make it ring at maximum volume, even if the device is set to silent.
Alternatively, if the device has been well and truly lost, then users will be able to check out its precise location on a map in real-time. Some users whose devices have already received the Play Services update as shown on Reddit, report that the device management settings now show the new option. Screenshots have been issued that show that users of Device Manager will be able to erase all data from a missing device, remotely lock the screen, or change the lock screen password.
Giving users the option of being able to lock the device is pretty useful, considering that many may not want to completely lose all the data from the phone by erasing this completely. Precise details of being able to lock the device are not yet clear though, so it will be interesting to see exactly how secure this will be. Although third-party-apps already offer this kind of service it's good to see Google establishing its own Device Manager, and this will be available to devices running Android 2.2 or later, according to the official Android blog.
So far it sounds similar to Apple's Find my iPhone app. This is a free iOS app compatible with iPhone 3GS, iPhone 4, iPhone 4S, iPhone 5, iPod touch (3rd generation, 4th and 5th generation) and iPad, running iOS 5.0 or later. This app enables device users to track down a device from another iOS device in order to protect the data or locate it. Users simply install the app on an alternative iOS device, open it and sign in using their Apple ID.
This also offers the ability to pinpoint the device on a map, remotely lock it, or erase the data and also enables the owner to play a sound or display a message. If the lost or mislaid device is running iOS 6 then users can also benefit from a Lost Mode and also driving directions to the device. The Lost Mode uses a 4-digit passcode to lock the device and displays a contact number on the lock screen itself. When checking in with Find My iPhone, users can see a location history and the most recent location of the missing device.
Find My iPhone also features a battery charge indicator and you can download it from iTunes here. However, users must remember to enable Find My iPhone in their devices iCloud settings to enable locating a device with this app. These kinds of security services are certainly welcome and we'd like to know what you think of Find My iPhone if you already use it? If you own an Android device, what are your thoughts on the upcoming Android Device Manager? Let us know with your comments.