iOS 7 beta 5 now live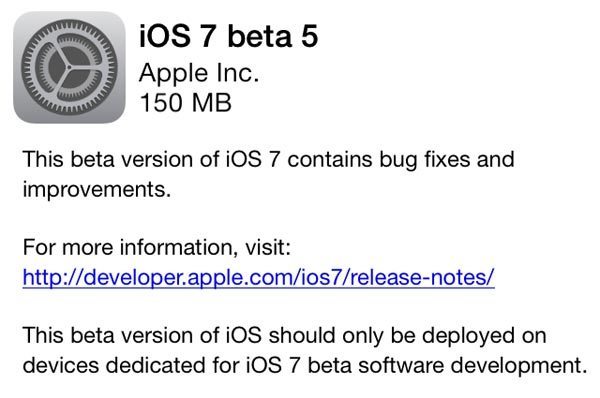 Earlier today we had taken a look at when we could expect iOS 7 beta 5 to be seeded to devs, and while we would have placed a bet that it would be Monday August 12, Apple threw us a curve ball and released the beta today.
Seeing iOS 7 beta 5 now live was a complete shock and took us completely by surprise, but at least it shows Apple is gearing up to the Gold Master release, although there is the small matter of getting beta 6 out of the way first.
This is not a huge download, as it is only 150MB in size, but Apple does say it comes with several bug fixes and performance enhancements to the User Interface. Having said that, iOS 7 beta 4 was just a minor update as well, so it seems as though Apple is rather happy with how iOS 7 is shaping up.
We are currently installing iOS 7 beta 4 onto our device and we will update you to the changes and if it managed to resolve some of the issues found in beta 4.
Have you downloaded and installed iOS 7 beta 5 yet, what changes have you noticed? How long do you think it will be before Apple releases beta 6 and finally Gold Master?