Samsung Galaxy Note 3 clue in Unpacked Event invitation
Samsung has already sent out invitations to the Unpacked event to the lucky few, which is being held in Berlin on September 4th. They are also showing possible clues of the next Note device, and of course this will be the Samsung Galaxy Note 3.
Take a look at the screenshot below of the Samsung Galaxy Unpacked event invitation, look at the bottom right box where it says "Note The Date"; this is surely an easy clue that they will announce the Note 3.
The Samsung Unpacked episode 2 event will kick off in Berlin at 2013 19:00 CEST or 13:00 EDT on September 4th. Phones Review will be covering this event as it happens, you do not want to miss this one. There is no solid evidence as to what specs and design the Samsung Galaxy Note 3 will hold; to date all we have had is rumors.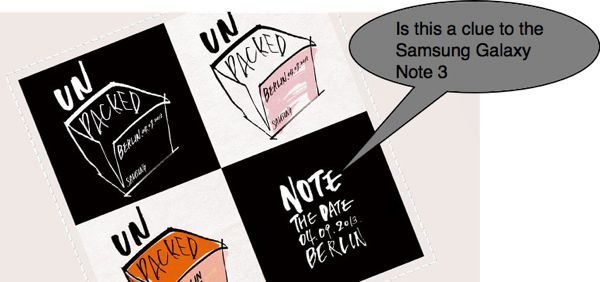 So far what we have learned is that the Galaxy Note 3 will possibly feature a 5.7 to 5.9-inch 1080p HD Super AMOLED display, Qualcomm Snapdragon 800 or Samsung Exynos processor, 13-megapixel rear camera, will hopefully come running Android 4.3 operating system and 3GB of RAM.
If you cannot make the event you will be happy to know that Samsung will be live streaming it in Times Square, New York at 1 p.m. ET.
Are you expecting a total re-design for the Samsung Galaxy Note 3? Please do let us know what specifications you are looking forward to the most on this next generation Note device in the comment.