Samsung ATIV Fusion 6.5-inch combines WP8, Android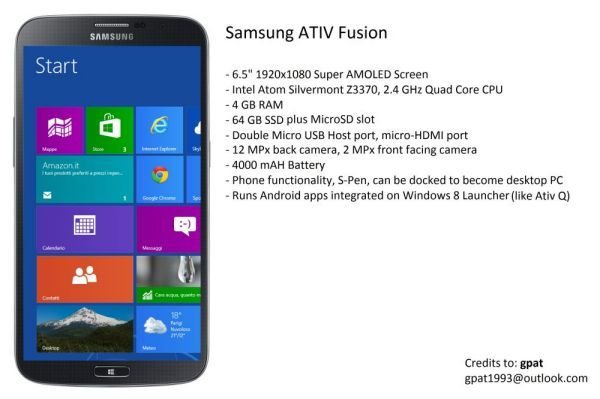 We all love concept smartphones, but what we do not like is the fact a superb one comes along and we never get to see it in reality. This would go for the new Samsung ATIV Fusion, which is possible in time but not just yet.
The Samsung ATIV Fusion concept is a creation by Gpat that we found courtesy of Concept Phones, and the specifications on this would be fantastic if they hit it with the word reality. The Samsung Galaxy S3 was a little similar to the Windows Phone 8 Samsung Ativ S but with Android, so what does the Fusion have to offer?
Pipe dreams are great and we all need to have them, the Samsung ATIV Fusion concept has been packed with a 6.5-inch Super AMOLED 1920 x 1080 display, 4 GB of RAM, 64 GB SSD storage as well as a microSD card slot.
It does not stop there, the hope is to put a quad core 2.4 GHz Intel Atom Silvermont Z3370 processor inside with micro HDMI port and micro USB Host port, 2-megapixel camera on the front and a 12-megapixel camera on the rear. Battery life will never be an issue thanks to the 4000 mAh battery, and using the touchscreen with its very own S Pen is a great idea.
What we love the most is the ability to dock the Samsung ATIV Fusion and use it as a desktop PC, this one runs Android apps within a Windows Phone 8 launcher, so at least you have many apps to choose from.
Would you buy the Samsung ATIV Fusion smartphone if it ever became a reality?