iPhone 5 vs. Galaxy S4, Xperia Z Ultra reveals a lot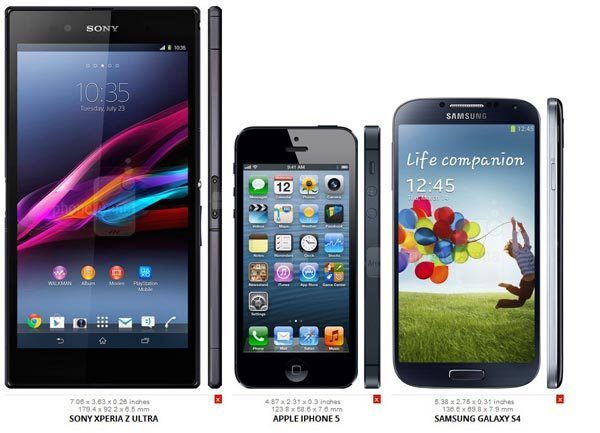 There is no way you can compare the iPhone 5 to phablet type phones from a buyers perspective, and this is due to the fact that most people looking at a phablet like the Sony Xperia Z Ultra will be doing so thanks to a need for a much bigger display. These users do a lot more than just make phone calls, and in fact most phablet owners enjoy browsing the web, playing games or watching movies many more hours than making a phone call.
We have featured an image below this article to fully show how much has changed since Apple first launched the original iPhone that made touch screen phones popular. Since this time, Apple hasn't changed hardly at all in terms of phone size and while their latest iPhone 5 is still popular today it seems people want change.
The need for something bigger is being shouted out from some of the most dedicated Apple iPhone owners, which have purchased every generation of iPhone. Even if Apple jumped to a bigger 4.5-inches with a wider display, it would satisfy a growing hunger for more screen real estate.
Use the image below as only a quick reference to reveal how much has changed in terms of size, although Apple has kept at the more phone-like size that still seems to be popular with Apple fans. There is no doubt that Apple will jump on the phablet wagon in time, but as always with Apple you need to wait and have a lot of patience.
How do you like your iPhone 5 sandwich? Take a look at the different phone sizes below, then let us know what is your favorite size between Sony Xperia Z Ultra vs. iPhone 5 and Samsung Galaxy S4.