Sign-up for Verizon Motorola Moto X interest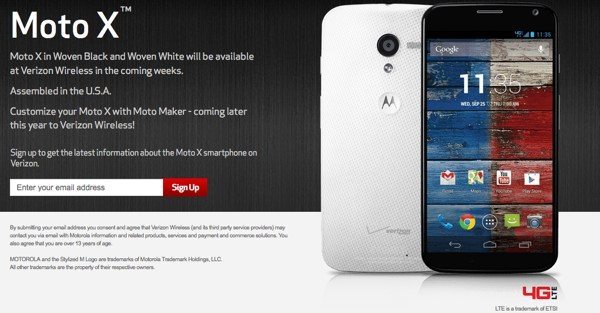 The Motorola Moto X smartphone was recently announced and is generating a lot of interest ahead of its availability. Although there is still no confirmed release date for this upcoming device, the Verizon sign-up page to register your interest in the Motorola Moto X is now live.
While Motorola hasn't announced an official release date for the phone on any of the major carriers that it's heading to, we have seen previous rumors from a leaked Verizon road map mentioning August 23 as a possible date. Since then we have also seen a rumored date of August 29.
Yesterday we told how the Moto X is now showing on the Best Buy website with a contract or non-contract price, and Best Buy lists the device as "coming soon." The new Verizon sign-up page for the Motorola Moto X says that the Moto X will be available "in the coming weeks," in Woven Black or Woven White colors.
You can register to get the latest information about the Moto X at this Verizon page. We'll also be keeping tabs on developments about the Moto X in the meanwhile and will be sure to inform readers when an official release date becomes known.
Key specs of the Moto X include a 1.7GHz dual-core processor, 4.7-inch display, 2GB of RAM and 16/32GB of internal storage (non-expandable), and it runs the Android 4.2.2 Jelly Bean operating system. Are you interested in the Motorola X? Will you be using the Verizon sign-up page?