LG G2 ad campaign kicks off in Premier League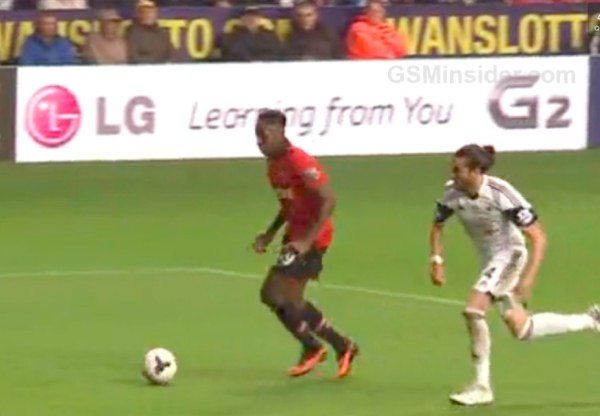 The upcoming LG G2 is gaining a lot of attention and looks to be a very notable phone with impressive specs and design. This smartphone is likely to be a big success on release and is heading to all of the major carriers in the US. The LG G2 ad campaign has now kicked off at a Premier League match in the UK, and it seems that LG intends to promote this device in a big way.
At the weekend a Swansea vs. Manchester United premiership football match took place, and the stadium in Swansea was awash with LG G2 banners. As well as this, ads for LG's new flagship handset were displayed on digital billboards throughout the game, which as you might expect, Man U won!
It's no surprise that LG feels the need to heavily promote the phone, with so many other notable handsets on the way. These include the Samsung Galaxy Note 3 and Apple iPhone 5S, and being a jump ahead on the competition with the G2 ad campaign could really make a difference in grabbing a share of potential buyers. Manchester United has a huge global following, so this seems a very wise marketing move by LG.
Verizon already has a webpage available to register interest in the phone, and we'll give you a quick recap on the major specs. The LG G2 has a 2.26GHz quad-core processor, 5.2-inch Full HD display with 424 ppi, 2GB of RAM, and 32GB of internal storage (non-expandable). The phone also has a 13-megapixel rear camera, 2.1-megapixel front-facing camera, LTE, a 3000 mAh battery, and runs the Android 4.2.2 Jelly Bean operating system.
The LG G2 undoubtedly has a lot to offer and LG is obviously willing to splash the cash on advertising this handset. Whether it will get its fair share of buyers in the packed and lucrative holiday season market though, remains to be seen. Are you intending to choose the LG G2 smartphone as your next smartphone purchase? Let us know with your comments.
Source: GSMInsider